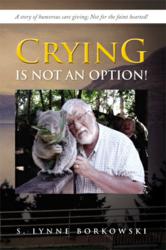 Decide what things are most important and do them while you can.
LANSING, Mich. (PRWEB) February 27, 2013
Debut author S. Lynne Borkowski offers a heartwarming and uplifting tribute to her late husband and a poignant yet sometimes humorous portrait of the caregiving relationship with the release of her new book Crying is Not an Option.
When Lynne's husband received the devastating diagnosis of Parkinson's disease, she made the decision to step up to the plate and care for him every step of the way with her unique "love, God and humor" approach.
With the advancement of medicine and the aging of the baby boomer generation, spousal caregiving is becoming more prevalent. Borkowski's book attempts to help those who feel alone caring for loved ones with debilitating illness.
In Crying is Not an Option, Lynne discusses the rewarding challenges of respite care and the importance of humor. The last 10 years with her husband inspired her to reach out to others experiencing the same lifestyle.
She initially set out to speak to fellow caregivers but ultimately tells a story of the love, compassion and respect she felt for her husband throughout the ups and downs of the last years of his life. "I could feel him with me as I wrote this book and felt his approval," said Borkowski.
Borkowski wants readers to know two things: always have a sense of humor and plan together as long as you can. Says Borkowski: "Decide what things are most important and do them while you can."
Crying is Not an Option
S. Lynne Borkowski
Hard Copy: 978-1-4797-3911-0 | $15.99
Soft Copy: 978-1-4797-3910-3 | $12.99
E-book: 978-1-4797-3912-7 | $3.99
Available at barnesandnoble.com and amazon.com.
About the author
S. Lynne Borkowski is a retired speech pathologist of 36 years. Borkowski enjoys volunteering at a local Parkinson's support group, and lives near her children and grandchildren in Jackson, Michigan.
###