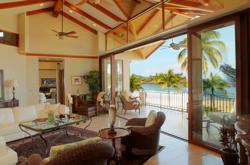 We were thrilled to have the Amazon crew film at The Palms the second year in a row.
Guanacaste, Costa Rica (PRWEB) February 26, 2013
This past January, Amazon sent crew to The Palms (http://www.palmscostarica.com ) on the serene coast of Playa Flamingo in Costa Rica to shoot the new Amazon Kindle Paperwhite commercial. Movie director Ben Younger, who is known for writing and directing the movie Boiler Room, and the crew made The Palms their home for four days while they filmed the advertisement. The director had shot the Amazon Kindle Fire commercial last year at The Palms and was impressed by the location that he wanted to film another commercial at the property. The pools, lawns and beach at The Palms provided the perfect setting for the commercial.
"We were thrilled to have the Amazon crew film at The Palms the second year in a row," said Bob Spence, Owner and Developer of The Palms Private Residence Club. "Our team at The Palms and owners are fans of the Kindle because you can enjoy reading your favorite book on the Playa Flamingo beach without having a problem with the light."
The Palms is a boutique-sized residential development comprised of elegant two-bedroom villas and superior amenities in a luxuriously landscaped sanctuary on Playa Flamingo, Costa Rica's premier beach. The 32-villas are adorned with only the finest appliances and finishes and offer more than 2,300 square feet of living space. For second home buyers looking for an authentic experience in a land virtually untouched by the modern-day resort scene, The Palms is the answer. Ownership is available starting at just $129,000.
To check out the commercial, visit: http://youtu.be/lS3t9reE364
About The Palms Private Residence Club:
The Palms Private Residence Club is the only luxury residence club in Guanacaste, Costa Rica. Nestled on the Pacific Coast's pristine Playa Flamingo, each of the 32 Villas at The Palms offers stunning views of the Pacific Ocean. Offering all the advantages of vacation home ownership with the services and amenities of a first-class resort, The Palms offers its owners a luxury sanctuary and a more authentic experience. Potential owners can purchase 1/8th ownership at $149,000 or 1/10th starting at $129,000. Ownership provides unlimited, flexible access to all of the Club Villas. Also, vacation at hundreds of other private home and resorts worldwide through The Palms' reciprocal use program. For more information, please call 800-867-5762 or visit http://www.palmscostarica.com. Check out The Palms on Facebook @ Palms Villas or Twitter @palmscostarica.