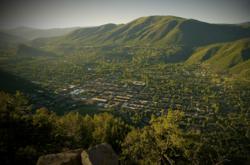 Aspen, CO (PRWEB) February 26, 2013
Aspen swells with talent during spring and summer, as world-class athletes move to town to train on local trails and rivers, and cultural organizations call in the big shots for art exhibitions, lecture series, special events, and festivals. But Aspen isn't just for the pros: The cultured and the adventurous of all abilities and proclivities flock to town as the snow melts and the plethora of warm-weather pursuits become available.
Aspen has long had a reputation as a preferred destination for outdoor enthusiasts – including high-mountain hiking through lush aspen forests; summiting one of several nearby 14,000-foot peaks; charging down adrenaline-pumping mountain biking trails; serene road rides to places like the famed Maroon Bells; kayaking or rafting through class IV and V rapids; paragliding from Aspen Mountain to the center of town; rock climbing on Independence Pass; stand-up paddle boarding on nature preserves, and more – but town is just as vibrant away from the mountains and rivers that surround it.
Festivals like the Aspen Writers' Foundation Summer Words series of author talks and readings and the Aspen Ideas Festival engage the mind, while others like the Food & Wine Classic, Jazz Aspen Snowmass music festivals, and Aspen Santa Fe Ballet dance performances engage the visceral. And the list of events and festivals is nearly endless, overflowing the summer calendar from start to finish.
Sunset al fresco dining at world-class restaurants and shopping that satisfies even the most discerning fashonistas add to Aspen's cosmopolitan flair. And the accommodations, which are as varied as the myriad summer activities, offer something for every taste and budget – from five-star resorts to chic boutique hotels, trendy mountain-side hot spots to luxe condos, family-owned bed and breakfasts to European-style hostels. Stay Aspen Snowmass, Aspen's central reservation agency, streamlines the booking process, offering great advanced and last-minute deals on both accommodations and airfare.
The oft-cited local adage "you come for the winter, but stay for the summer" has never been more true than in 2013. And the highlights from this summer's calendar, outlined below, prove why.
Cycling, Sports and Adventure
USA Pro Cycling Challenge, Aug. 19-20, 2013 – For a third year in a row, Aspen has been selected as one of the host cities for the 2013 USA Pro Cycling Challenge. Aspen will host the beginning of the race for the start and finish of Stage 1 on Aug.19 and the start of stage 2 on Aug.20. The UPCC has the highest registration level next to the Tour de France, runs from Aug. 19-25, 2013 and covers nearly 600 miles of Colorado's most demanding terrain. http://www.aspenupcc.com
A weekend for cycling enthusiasts, the Aspen Cycling Festival kicks off with the Ride for the Pass, a charity bike race and recreational ride to benefit the Independence Pass Foundation. Before the Pass opens to car traffic, cyclists wind up the 10-mile course, gaining 2,500 feet of elevation. On Sunday, The Aspen Cycling Criterium brings fast-paced energy to downtown Aspen when cyclists speed around the .9-mile track loaded with treacherous curves to compete for an $8,000 prize. http://www.aspencyclingfestival.com
Power of Four Mountain Bike Race and Run, Aug 3-4, 2013 – This intense mountain bike race's unique course will require participants to conquer pieces of Aspen, Snowmass, Buttermilk, and Aspen Highlands. A mix of terrain covering more than 10,000 feet of climbing will make the race absolutey epic. New for 2013 is a Power of Four run. This newest challenge in the series gives runners their chance to scurry across a challenging course of over 30 miles and 10,000 feet of climbing. http://www.aspensnowmass.com
41st Annual Motherlode Volleyball Classic, Aug. 29 – Sept. 2, 2013 – The Motherlode is the largest doubles volleyball tournament in the U.S. and brings more than 550 teams to compete on outdoor grass and sand courts. http://www.motherlodevolleyball.com
Food, Wine & Nature
Food & Wine Classic in Aspen, June 14 – 16, 2013 – Celebrating 31 years as the original and most favorite premier culinary festival in the nation and 20 years of the Best New Chefs program, the Food & Wine Classic hits town with a line-up of NEW events and the greatest number of chefs and winemakers ever gathered in Aspen. Together, epicurean masters, Mario Batali, Giada DeLaurentiis, Bobby Flay, Emeril Lagasse, Tom Colicchio, Danny Meyer, Jacques Pépin, Michael Symon, Ming Tsai and many more will lead more than 80 cooking seminars and demonstrations. Attendees will also be treated to great programming including a hands-on knife skills seminar, a butchering demonstration, a 5K charity run, an anniversary party, and a late-night dessert bash. For additional detail, to purchase tickets, and receive event updates, visit http://www.foodandwine.com/classic.
Aspen Center for Environmental Studies (ACES) Annual Mushroom Fair, July 27, 2013 – Aspen Center for Environmental Studies (ACES) celebrates its 45th year of working to build a community of capable, knowledgeable and motivated environmental stewards. ACES offers naturalist guided tours at various locations around Aspen as well as camps and classes for kids and adults. Visit ACES flagship site, Hallam Lake, a 25 acre nature preserve in the heart of downtown Aspen. This summer, don't miss ACES Annual Mushroom Fair, on July 27th, featuring two visiting fungi and lichens experts, Vera Evenson and Dr. Scott Bates (curator and researcher respectively at the Sam Mitchel Herbarium of Fungi, Denver Botanic Gardens). Learn everything there is to know about mushrooms: a wide variety of specimens will be exhibited, identified and examined up close. Mushrooms for the exhibit will be collected locally preceding the fair during an in-depth 2-day field course with both experts. http://www.aspennature.org
Aspen Mac N Cheese Fest, Sept 3, 2013 – Celebrate the third annual Aspen Mac and Cheese Fest in all its gooey goodness. Crowds consume pounds of this favorite food before voting a local restaurant the winner of this competition.
http://www.aspenrecreation.com
Visual Arts
Anderson Ranch's Featured Artist Lecture Series, June 20 – Aug. 22, 2013 – With its Featured Artists Lecture Series, Anderson Ranch brings the hottest names in contemporary art to Aspen with presentations by internationally known artists including Willie Cole (6/20), Angel Otero (7/11), Hernan Bas (7/18), Bill Viola (7/19), Xaviera Simmons (8/8), Diana Thater (8/15) and Petah Coyne (8/22). The series starts on June 13 and continues weekly throughout the summer. Presentations are at 12:30 pm, and are free and open to the public. Seating is limited and reservations are required. On Saturday, Aug. 10, the Ranch hosts its Annual Art Auction and picnic from 11:30-3 pm. Over 250 works will be available in silent and live auctions. Children's activities and a fun picnic lunch are available at this highly festive event. http://www.andersonranch.org
Aspen Art Museum's artCRUSH, Aug. 2, 2013 – Prominent artists, art collectors, curators, gallery owners, celebrities, and philanthropists from around the world gather during the first week in August to celebrate ArtCrush, the Aspen Art Museum's annual summer benefit. ArtCrush has evolved into a week full of social events aimed at engaging the arts community in Aspen and around the globe. An eagerly anticipated event that quickly sells out, the benefit features a remarkable wine tasting and auction, seated dinner for 350 guests, and both a live and silent auction of major works of contemporary art. In addition to the gala and auction the AAM presents the Aspen Award for Art to an important contemporary artist. http://aspenartmuseum.org
Performing Arts
Jazz Aspen Snowmass June Festival, June 21 – July 6 2013 – The JAS June Festival includes four nights of headline concerts from world-class musicians at the beautiful Benedict Music Tent in downtown Aspen, along with weekly JAS Café Downstairs @ The Nell jazz performances, free concerts and other events. Past performers have included Sheryl Crow, Harry Connick Jr., Jennifer Hudson, Tony Bennett, and many more. http://www.jazzaspen.com
Aspen Music Festival and School, June 27 – Aug. 18, 2013 – AMFS presents its 64th season in 2013 with 320 public events (many of them free) including concerts, masters classes, rehearsals, lectures and discussions. The long list of artists who have graced the stages in previous years includes Edgar Meyer, James Conlon, Julia Fischer, Joshua Bell, Hilary Hahn, Leonidas Kavakos and many more luminaries. Cultivating the next generation of musical talent, AMFS brings 750 international music students to Aspen each summer. In addition to performing scheduled recitals at the Benedict Music Tent and Joan W. and Irving Harris Concert Hall, the music students hold impromptu concerts in the streets of Aspen during the summer, literally filling the hills with the sound of music. In 2013, the Aspen Music Festival and School explores the powerful compositions musicians have offered up over the centuries as commentary, comfort, or cries of rage in reaction to societal pressures around them. This summer, hear the voices – triumphant, tortured, testing – of Shostakovich, Mahler, Debussy, Bernstein, John Adams, and more, with a special focus on the music of Benjamin Britten. http://www.aspenmusicfestival.com
Aspen Santa Fe Ballet's Summer Dance Series, July 6 – Aug. 19, 2013 – ASFB and other top dance companies (to be announced in May 2013) take the stage in Aspen for their annual Summer Dance Series. A presenter of world-class dance companies, Aspen Santa Fe Ballet brings high-quality dance to Aspen throughout the year. Through its presentation series, ASFB hosts such critically acclaimed dance companies as Alonzo King LINES Ballet, Hubbard Street Dance Chicago, Joffrey Ballet, Paul Taylor Dance Company, MOMIX, Pilobolus, Les Ballets Trockaderos de Monte Carlo, and Parsons Dance Company to name just a few. With a goal of showcasing traditional dance forms, ASFB presentations feature ethnic dance companies such as Ballet Quetzalli de Veracruz, Juan Siddi Flamenco Theatre Company, Dance Brazil, Peking Acrobats, Les Ballets Africains, and Nrityagram Dance Ensemble of India. http://www.aspensantafeballet.com
Jazz Aspen Snowmass Labor Day Festival, Aug. 30 – Sept. 1, 2013 – The JAS Labor Day Festival is JAS' largest event with crowds in excess of 10,000 a day. In addition to headline performances on the main stage, two side stages keep the music going throughout the day with a mix of established bands and DJs. In 2011, JAS partnered with industry giant's AEG Live to increase visibility and enhance the experience of the event. In its first year, the new partnership doubled attendee numbers, bringing in some of the most popular touring bands today. This year, JAS will present Jason Mraz, Grace Potter and the Nocturnals, Keith Urban, and Journey. Past performers have included 2013 Grammy winners Mumford and Sons, Zac Brown Band, Black Eyed Peas, Allman Brothers Band, Jack Johnson, and many more. http://www.jazzaspensnowmass.org
Theatre Aspen's Summer Season, June – August, 2013 – From June 25th-August 18th, award-winning Theatre Aspen offers a summer repertory season featuring top Broadway talent. TA celebrates their 30th Anniversary Season with the epic, grand and uplifting, LES MISÉRABLES, packing an emotional wallop that has thrilled audiences all over the world. The melodies recently heard again in the newly released feature film are already standards and its powerful affirmation of the human spirit has made LES MISÉRABLES a popular masterpiece. Next, families and fans of Charles' Schulz' "Peanuts" comic strip will love the contemporary revised version of the musical YOU'RE A GOOD MAN, CHARLIE BROWN. Finally, FULLY COMMITTED is a lightning-fast one-man tour-de-force comedy, directed by legendary TV director Jay Sandrich. http://www.theatreaspen.org
Intellectual and Cultural Events
Aspen Ideas Festival, June 26 – July 2, 2013 – Now in its ninth year, the Aspen Ideas Festival focuses on "ideas that matter" and offers a spectacular array of lectures, presentations, debates, and panel discussions by leading thinkers who span a vast range of critical topics, from the economy to the environment and science to the arts. Divided into two overlapping, four-day sessions, attendees hear from inspired and provocative writers, public officials, artists, scientists, business executives, scholars, economists, foreign policy specialists, entrepreneurs, and leaders of diverse fields from across the country and around the world. Past speakers in these programs have included Supreme Court Justices Elena Kagan and Sandra Day O'Connor; Chairman of the Joint Chiefs Admiral Mike Mullen, and New Jersey Governor Chris Christie. The summer will also feature various seminars and the annual Summer Celebration Gala (August 3). http://www.aifestival.org
Aspen Historical Society Celebrates 50 Years, Presents "Journeys Stories" June 4-10, 2013 – Celebrating its 50th anniversary, the Aspen Historical Society serves to promote the diverse cultural and social history of Aspen, operating four sites in the area, including the Wheeler/Stallard Museum, Holden/Marolt Mining & Ranching Museum, and the ghost towns of Independence and Ashcroft. Interpretive, guided tours are available at each site. Hours and availability vary seasonally. This summer, AHS welcomes "Journeys Stories," a Smithsonian exhibit, June 4 through July 10, which explores people's pathways as they moved West. The Society also presents four days of entertainment, thoughtful discussion and celebration of past and present during Chautauqua, July 9-12. http://www.aspenhistory.com/
Aspen Writers' Foundation Summer Words, June 16 – 21, 2013 – Established in 1976, Aspen Summer Words has been the place to be for anyone with a passion for the written word. This six-day celebration of words, stories, and ideas consists of morning writing retreats, afternoon literary festival programs, and one-on-one professional consultations with agents and editors. Writing Retreat courses include fiction, personal essay and memoir, narrative nonfiction, and poetry. Each year the Festival celebrates a particular literary heritage and culture by honoring the stories and storytellers of a specific region. This year Aspen Summer Words will celebrate the literature of China with guest authors, Xiaolu Guo, Yiyun Li, Lisa See, and many more. http://www.aspenwriters.org
Aspen's Old-Fashioned 4th of July Celebration, July 4, 2013 – Aspen celebrates Independence Day with a whimsical twist as more than 20,000 residents and visitors come together to honor the nation's birthday in true American style. Festivities include an old-town parade, U.S. Airforce jet flyby, concerts, a kid's bicycle rodeo, and spectacular fireworks over Aspen Mountain. bit.ly/Aspen4th
Aspen Art Museum Presents Rob Pruitt and Thea Djordjadze, May 2013 – Beginning May 2013, the Aspen Art Museum presents two solo exhibitions. The first is the first-ever solo museum survey of artist Rob Pruitt, which simultaneously charts a path through his diverse oeuvre and stays true to the spirit of disruption that has long been central to his practice. Thea Djordjadze is best known for creating sculptural installations that combine found and constructed elements in carefully choreographed settings. While her works may develop out of her interests in cinema, architecture, and literature, their references remain oblique, in effect setting a mood rather than telling a story. The AAM's exhibition will be Djordjadze's first major solo exhibition in North America. Beginning July 26, the AAM also presents the work of 2013 Jane and Marc Distinguished Artist in Residence Lorna Simpson and the first significant solo exhibition of the work of artist Hayley Tompkins. Other summer highlights exhibition programming on the new AAM site by artist Dave Muller. http://www.aspenartmuseum.com
MountainSummit: Mountainfilm In Aspen, Aug 22-25, 2013 – Now in its fourth year, MountainSummit: Mountainfilm In Aspen is a unique collaboration between Mountainfilm In Telluride - long acknowledged as the leading film festival for adventuring and advocacy - and the Wheeler Opera House. The festival brings artists, activists, and adventurers together for four days in late August, filled with brilliant film and speaker programs featuring award-winning documentaries with their creative teams and subjects, plus talks from some of the most interesting people working on the planet today. http://www.wheeleroperahouse.com
Aspen Filmfest, Sept. 26 to Oct. 1, 2013 – A feast of film and fall color for movie lovers of all ages, Aspen Film's centerpiece event presents filmmaking at its finest with an emphasis on independent productions from around the world in a uniquely intimate scale. Screenings include new releases, acclaimed documentaries, and favorites from the festival circuit. Special programs include tributes to distinguished artists. Past honorees include Anton Yelchin, Julie Christie, Harrison Ford, Rob Reiner, Sydney Pollack, Bob Rafelson, Michael Douglas, Anjelica Huston and William H. Macy. http://www.aspenfilm.org
11th Annual Aspen Arts Festival, July 27 – 28, 2013 – Wagner Park comes to life with the bold, vibrant and whimsical art of the country's leading artists. The artistic media represented include paintings, sculptures, photography, glass, wood, jewelry, collage, and ceramics with prices ranging from $25 hand-designed earrings to $50,000 metal, life-sized sculptures. Admission is free and open to the public. http://www.artfestival.com
For media information and images, visit http://www.aspenchamber.org/media and contact Promo Communications at 970.925.8480 or
Maureen Poschman • maureen(at)promocommunications(dot)com
Sarah-Jane Johnson • sarahjane(at)promocommunications(dot)com
Damien Williamson • damien(at)promocommunications(dot)com
For visitor information, visit http://www.aspenchamber.org, or call 1.888.290.1324 or 970.925.1940.
Connect with Aspen on Facebook, Twitter (@AspenCO), YouTube and the blog.