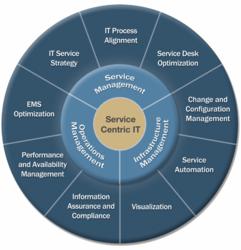 We celebrated our 15th anniversary, grew revenue 40%, and increased our staff 35%
Herndon, VA (PRWEB) February 26, 2013
Windward IT Solutions, a nationwide consulting firm focused on solutions to assist the Federal Government and Fortune 500 to deliver IT services, experienced record growth in 2012.
"This was an exciting year for Windward," states CEO and Founder, Sean McDermott. "We celebrated our 15th anniversary, grew revenue 40%, and increased our staff 35%. In these times of uncertainty with the public markets and massive changes in Federal budgets, this amazing performance is a direct result of smart, calculated change rolled out over the past several years. This strategy, and our critical mass in 2012, reflects our tireless commitment to raising the bar on the services we deliver to our clients."
Growth was fueled by a multi-pronged strategy, including:

Continued focus on core Windward Solutions around Service Management, Infrastructure Management, and Operations Management
Expansion of our Cloud Management capabilities for the Federal Government and the Fortune 500
Release of AutoLaunch™, a subscription-based approach to help clients build long-term and sustainable automation strategies to increase efficiency of IT organization and create 300%+ ROI of IT investments
Deep focus on the Defense Department's unique requirements for scalability and mission-critical reliability, which are directly aligned to Windward's Solutions
Expansion of Commercial business with special emphasis on Communication Service Providers, Financial Services and Insurance verticals
The winning of several key long-term Federal procurements that provides a foundation for further growth
In addition, Windward has increased its partnership with key industry leading companies in the Business Management (BMS) space. "As a product agnostic solutions provider, our relationship with leading BSM vendors is critical, as our clients utilize best of breed solutions from many companies," states Mafa Amr, Vice President of Strategic Alliances. "Our customers require end-to-end solutions, and working with these partners cooperatively is very important." Windward continues to team with its Partners to provide a complete solution of software and implementation for ITSM while working in very sophisticated IT environments to support diverse needs. Windward's clients are ensured that their platform will meet today's requirements as well as new initiatives around cloud and mobility in the future.
"We're very proud of the performance of Windward in 2012," says Cindy Breed, President. "While financial performance is very important, we also exceeded industry norms for customer service and repeat business. This reinforces our culture of being client-focused first, while delivering highly differentiated Solutions that our clients require to deliver high-value IT services in this rapidly changing landscape."
ABOUT WINDWARD IT SOLUTIONS
Founded in 1997, Windward IT Solutions is at the forefront of Service-Centric IT. With strategic consulting, unparalleled technical expertise, and our proven Windward Service-Centric IT Roadmap, we help our clients align the core competencies of process, organization, information, and technology to effectively address business and mission priorities. Windward offers a proven set of technology-independent solutions focused on the three core disciplines of Service-Centric IT – Service Management, Infrastructure Management, and Operations Management – to help our clients plan and deliver high-impact IT services. Windward is headquartered in Herndon, VA. More information on the company can be found online at: http://www.windwardits.com.