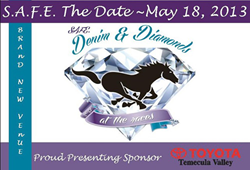 Temecula Valley, CA (PRWEB) February 26, 2013
Temecula Valley Polo Club has been selected as the venue host for S.A.F.E.'s annual Denim & Diamonds fundraiser on May 18, 2013, from 11:30 AM – 5:00 PM.
S.A.F.E., Safe Alternatives for Everyone and Presenting Sponsor Toyota of Temecula Valley are encouraging guests to wear their finest "race day" hat. Spend A beautiful spring afternoon at the Temecula Valley Polo Club grounds, bidding on live and silent auction items, watching a polo demonstration during luncheon and take part in the champagne divot stomp all to support the end of family violence.
Sponsor & donor support has helped S.A.F.E. serve 12,802 clients and 1,880 youth in the past 11 years. Sponsorship opportunities are still available and donations for our live and silent auctions are gratefully accepted, your support is a step towards ending family violence in our community. To sponsor or donate to Denim & Diamonds please contact Patti Drew at 951.587.3900 or patti(at)safefamiliesca(dot)org. Tickets are $125pp or a table of 10 for $1,150 to purchase go to http://safe.ticketleap.com.
About S.A.F.E.
S.A.F.E. is a non-profit agency in Temecula that is committed to providing programs and services to children, youth and families who have experienced or at risk of violence and abuse. For more information on S.A.F.E.'s services go to http://www.safefamiliesca.org or call 951.587.3900.
About Temecula Valley Polo Club
Temecula Valley Polo Club is destined to be a premiere polo club, connecting renowned players from around the world to participate in one of the world's oldest team sport. In addition, Temecula Valley Polo Club will merge philanthropy with polo by serving as a regional fundraising venue for local and national charities to host exclusive events aimed to raise funds and awareness for a variety of causes.
Polo attendees will also have the opportunity to bask in the richness of Southern California wine country as they witness the grace of polo at catered luncheons. These events will feature local wine and food pairings, world-class entertainment and silent auctions showcasing luxury products as well as traditional champagne divot stomps.
For more information regarding Temecula Valley Polo Club or sponsorship opportunities, please contact Geraldine Strunsky, geraldine(at)hojf(dot)org.