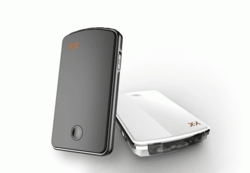 "Everyone I talk to has the same problem with their phone batteries always dying, so it's time we did something about it."

Rob Rothman
Founder of Urban Adventurer
Williston, VT (PRWEB) February 27, 2013
Urbanadventurer.com, an online retailer of men's & women's bags and accessories, is excited to announce its latest addition to a catalog of products geared toward the active professional. Over the years, we've seen smart phones grow technologically, but their batteries have only gotten worse thanks to these added "improvements."The Urban Adventurer team wanted to use their electronics anytime, anywhere without being slaves to wall chargers, so they traveled the world in search of a new type of mobile battery charger, one that was powerful, durable, well designed, and different from anything they've seen before.
What they found astounded them – a collection of colorful, fashionable, pocket-sized portable smartphone chargers that range in a variety of colors, styles and collections. Once fully charged, they plug into all USB-friendly mobile devices, including Iphone5, Iphone4/4s, Ipad, Ipad2, Droid, Smartphone and tablet, and charge them fully within a couple hours, holding over two full battery charges within them. No annoying cords, no wall chargers, no waiting, and, best of all, they store their power for 9-months. The Dual USB Outputs gives them the ability to charge 2 devices simultaneously at 3000mAh with a 4 hour full recharge time. The B30L series comes equipped with 4-bulb LED flashlight and the B30 series comes available in 4 stylish colors: green, blue yellow/orange, and yellow/purple. Each battery comes equipped with adapter plugs for Micro USB, Mini USB, Apple, and Galaxy.
Blown away by the high-quality, fast charge time, durability, and sleek, modern design of the Y+X battery chargers, Urban Adventurer founder Rob Rothman knew he found the remedy to premature phone death. "I just couldn't believe I haven't seen them here sooner," Rothman said. "Everyone I talk to has the same problem with their phone batteries always dying, so it's time we did something about it."
The Y+X Portable Rechargeable Battery Packs are built and designed to adapt to all lifestyles. From the renowned world traveler to the late-night studier to the action sports enthusiast, these batteries are made for every cell phone users frustrated with batteries that can't keep up. "I never go anywhere without it," Rothman said. "Last week I got caught in a storm while cross-country skiing. My phone died but the battery charged it up in time to call my friend for a ride in his snowmobile. I'm lucky he got me in time!"
As the electronic world becomes more accessible by the day with the rise of mobile device usage worldwide, its important to ensure our technologies work for us, not the other way around. Its becoming clear that Urban Adventurer is taking the first step and putting the power in people's hands
Urban Adventurer headquarters is located in Williston, VT.
For more information contact PR Manager David Mooney at 800-835-9809 or info(at)urbanadventurer(dot)com.