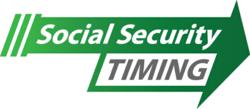 "It is our mission at Social Security Timing® to put advisors at the center of this process," Joe Elsasser, creator of Social Security Timing®
Omaha, NE (PRWEB) February 26, 2013
Social Security Timing®, patent pending software that helps financial advisors analyze Social Security claiming strategies for clients, recently launched an entirely new user interface. The changes are aimed at improving usability and helping advisors test their recommendations against real world scenarios.
"We are very excited to roll out the newest version of Social Security Timing®," said Joe Elsasser CFP, creator of Social Security Timing®. "Since we launched in 2011, we have made a number of incremental improvements to the software. But none of those improvements equaled the sweeping changes that we rolled out this January when we launched an entirely new user interface for the software."
New features include:

Break-even calculations for married couples
Mobile friendly design
Filter and sort options to identify strategies quickly
Shows clients the difference between recommended strategies and an early claim
Income gap illustration
Social Security Timing® creator Joe Elsasser demonstrates the new software in this screencast.
With over 1,000 financial advisors, CPAs and attorneys actively using the software, Social Security Timing® helps individuals and married couples plan when to elect Social Security - a big decision in one's life. The advisor inputs his or her client's information into the software, which then identifies and compares literally thousands of claiming options and finds the one with the highest lifetime Social Security benefit.
"The right claiming option regularly nets more than a $100,000 in additional income over the course of a married couple's lives," says Elsasser. "This is why it is so important to work with a knowledgeable advisor throughout the process. It is our mission at Social Security Timing® to put advisors at the center of this process."
Social Security Timing® analyzes claiming strategies for married couples, single people, divorced people, widows, government employees and even people who have already elected Social Security.
Advisors can register for a free trial of Social Security Timing® at http://www.socialsecuritytiming.com