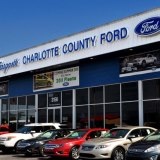 being a part of our community is important
(PRWEB) February 27, 2013
This past weekend, the Peace River Harbor Heights Rotary Club hosted its 13th Annual Bogies and Stogies Golf Tournament in Port Charlotte. This golf tournament is an annual charity event sponsored by local Charlotte County businesses like Don Gasgarth's Charlotte County Ford. All proceeds are donated back to the county by way of service project activities, such as the Seminar for Tomorrow's Leaders (S4TL) and Edison College Scholarships.
The event hosted by Peace River Heights Rotary Club involved 90 hole sponsors and 20 golf teams. Smugglers sponsored each "big cup". The event was hugely successful with a great turnout and plenty of funding provided for the betterment of the Charlotte County community. Rather than being a standard golf game, this tournament involved exciting unique challenges for individuals as well as hole in one challenges. Participants were privileged to not only contribute back to their community with funding but to mingle with and enjoy each other's company.
Charlotte County Ford's very own Don Gasgarth was a participant in the Bogies and Stogies Golf Tournament. Don Gasgarth has been supporting this charity event for years. He maintains the importance of supporting one's community organization and of being involved. In fact, Gasgarth was so involved in this particular charity event that he was on the winning golf team. The Bogies and Stogies Golf Tournament winners proudly reported a final score of 58. Team members were Mike Hearn, Sabin Taylor, Adam Miller, and Don Gasgarth.
The 13th Annual Bogies and Stogies Golf Tournament was certainly an event to remember. If you weren't privileged to attend, there are photographs for the viewing on the club website, http://www.peaceriverrotary.org. You'll find the best moments captured with pictures of each hole sponsor's sign, each team participating in the tournament, and the amiable atmosphere and camaraderie experienced by all participants.