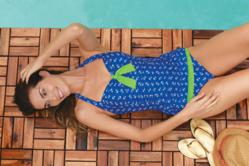 Salt Lake City, Utah (PRWEB) February 26, 2013
If you're already thinking about swimming and sunbathing at the pool or beach, look no further than DownEast Basics to get suited up this season! The high-style, low-priced retailer is offering two swim collections for 2013 – one in stores now and the other debuting in April. Both collections feature the latest trends, colors and prints in styles that are sure to flatter.
"You can find the suit of your dreams this year at DownEast," said DownEast fashion designer Andrea Updike. "This season, we're offering two collections with so much to choose from – whether you're searching for the hottest new trends in swimwear or tried-and-true styles that are universally popular among our shoppers. I'm so pleased with our fits, fabrics, colors and prints this season."
The DownEast Swim collections feature mix-and-match, coordinating tops and bottoms to complement every body type. And, with individual pieces ranging from just $19.99 -$49.99, why have a single swimsuit when you can expand your beachside wardrobe with lots of fun new looks?
Updike highlights key trends in the DownEast Swim 2013 collections that translate into seasonal must-haves:

Vintage Looks – "Retro inspired prints and cuts are still making waves this swim season. One look to try is our new Bali Mid Tankini that features a high-waisted bikini bottom and mid-length tankini with piping detail – it fits and flatters, and the feminine floral print in shades of red, coral and pops of neon complements all skin types."
Novelty Prints – "Nothing says summer fun like novelty prints! This season, our ultra-flattering Sausalito Halter comes in a bold yellow-and-white glasses print. And, the famous mustache print on our Beach Cruiser Tank really makes a statement."
All About Stripes – "Stripes are still hot, especially chevron, and we're offering them in our new Kennebunk Tankini that comes in bold red and bright blue. Also, our one-piece Crescent Beach Suit is the definition of classy. It complements your curves with navy and white stripes swirling up to a single shoulder strap."
Going Green – "The Pantone Color of the Year for 2013 is Emerald and we're going green, too, in our ikat print Ava Tankini. Ladies that love the retro-inspired, longer fit swim dress tops and briefs will feel like they found their swimsuit soulmate. It's color, print and fit perfection!"
Last But Not Least, Lace – "Our ever-popular Sausalito Halter also comes in an eyelet-inspired lace overlay this season, for the lace lover in all of us! Give this textured twist a try."
The DownEast Swim line, which originated in 2008 with six tops and two bottoms, has proven so popular that the brand has expanded to two swim collections with over 40 pieces, including tanks, halters, bikini bottoms and skirts, as well as layering options for out of the water. DownEast also continues to offer playful new swimwear pieces for girls.
Shop all of the great swim styles online at http://www.downeastbasics.com/swim.aspx.
About DownEast Basics
DownEast Basics (http://www.downeastbasics.com) offers high-design looks on a bargain basement budget for today's cost-conscious yet fashionable consumer. The DownEast Basics clothing line features smart layering pieces and wardrobe enhancing garments so you can embrace the American classic look with your own sense of style.
Shop for cute tops, women's sweaters, modest dresses and accessories at DowneastBasics.com.
The fast-growing retailer operates nationally with its Basics line via its online store in addition to 52 locations throughout the West including in Utah, Colorado, California, Idaho, Arizona, Washington, Nevada and Wyoming.