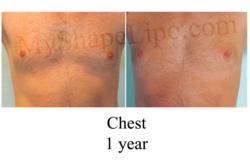 Men normally don't talk much about their liposuction procedures
Las Vegas, NV (PRWEB) February 28, 2013
Liposuction for men tends to be kept secret, which is why many people think that liposuction is predominately for women. As more celebrity men come out and tell their story, it seems to be getting more acceptable to the masses. MyShape Lipo has shed light on this myth as they released the results of their recent study that showed 36% of patients treated for liposuction were men.
In the news, actor John Schneider, former star of "Dukes of Hazard," has confessed his medical secret. He tells Extra, "I went the liposuction route a couple of years ago. I did a thousand sit-ups and nothing was happening."
"We've been seeing a steady increase of men wanting liposuction over the past few years," says Trevor Schmidt PA-C, liposuction specialist at MyShape Lipo. "Men normally don't talk much about their liposuction procedures," says Schmidt.
From a sample size of 968 patient who were treated with liposuction, there were 345 men who had the procedure. The most common areas treated were the abdomen and waist, accounting for 62% of patients. Male chest liposuction treating gynecomastia was the next most common area treated, accounting for 22% of men treated.
Men getting liposuction is nothing new, but many may have thought it to be taboo in the past. As more men acknowledge that they have had the procedure, it's likely that the popularity will continue to rise in the near future.
MyShape Lipo is a specialty liposuction clinic located in Las Vegas, NV. Their specialist, Trevor Schmidt PA-C, has performed over 10,000 procedures on all shapes and sizes. For a free consultation in person or by phone call 702-818-5476.