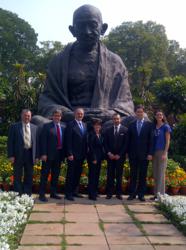 Canada and India share many common values and principles," said Majed El Shafie. "The historic friendship between us can be the cornerstone for true world peace.
TORONTO, Ontario (PRWEB) February 25, 2013
A Canadian delegation, led by One Free World International founder Majed El Shafie, arrived back in Toronto on Saturday following a week-long trip to India. With Canadian Members of Parliament traveling as observers, El Shafie arranged three days of meetings for the purpose of raising awareness for human rights and minorities in India, and strengthening Canadian and Indian relations.
Five Canadian Members of Parliament participated in the delegation as observers:

Mrs. Kelly Block (Saskatoon—Rosetown—Biggar);
Mr. Ted Opitz (Etobicoke Centre);
Mr. Wladyslav Lizon (Mississauga East—Cooksville);
Mr. Brad Butt (Mississauga—Streetsville); and
Mr. Russ Hiebert (South Surrey—White Rock—Cloverdale).
In order to gain a better understanding of the issues facing India, the delegation met with a variety of Indian officials, business leaders and organizations, including:
H.E. Mr. Mani Shankar Aiyar - Member of Parliament
• H.E. Mr. Mohammed Azharradun - Member of Parliament / former Captain of Indian Cricket Team

H.E. Mr. Naveen Jindal - Member of Parliament / CEO & Chairman of Jindal Companies
H.E. Mohammed Umer Ilyasi - President, All India Imams & Mosques Organization
Mr. Hans Schodder - Deputy Chief of Mission, United Nations High Commission for Refugees
Members of the Catholic Bishops Conference of India
Director and other members of CLAWS (Centre for Land and Warfare Studies)
"Canada and India share many common values and principles," said El Shafie. "The historic friendship between us can be the cornerstone for true world peace."
The delegation also visited the Indian Parliament; DANTAH, India's largest dental hospital, where they learned more about India's growing medical technology; Akshardhan Temple, where they were educated about India's Hindu heritage; and R K Puram in Delhi, one of the country's largest public schools where more than 10,000 children of all faiths and classes study together.
"It has been a true privilege to join One Free World International's delegation to India in support of their efforts to build relationships globally and their ongoing commitment to address human rights issues," said MP Kelly Block.
About Majed El Shafie:
El Shafie was arrested, tortured and sentenced to die in Egypt because of his Christian faith. Today, he lives in Canada and fights for those persecuted around the world through his human rights organization, One Free World International. Pressuring governments, and challenging both world and spiritual leaders, El Shafie has not been afraid to put everything on the line to help those in need. El Shafie and his work are the focus of the award-winning documentary "Freedom Fighter" (http://www.freedomfighterdvd.com) and the companion book, "Freedom Fighter: One Man's Fight for One Free World" (Destiny Image). El Shafie regularly testifies before the U.S. Congress and the Canadian Parliament and Senate, and he's a regular guest on CTV News, CBC, Sun News, CBN, ACLJ's Jordan Sekulow Show and more. In July 2012, he was awarded the Queen's Diamond Jubilee Medal.
# # #