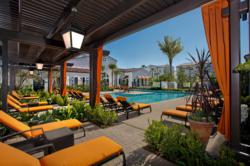 We are looking forward to celebrating Santa Barbara Townhomes' green practices that contribute to a more sustainable Rancho Cucamonga.
Rancho Cucamonga, CA (PRWEB) February 27, 2013
Santa Barbara Townhomes, a Lewis Apartment Community, has joined the City of Rancho Cucamonga's Green Business Recognition Program which recognizes businesses who have demonstrated a commitment towards environmental sustainability. Santa Barbara Townhomes, owned and operated by Lewis Group of Companies and located at 10855 Church Street, has incorporated a variety of green practices into their operations as an apartment community that promotes water conservation, energy efficiency, waste reduction, and urban gardening, among others.
The Healthy RC Green Business Recognition Program encourages green business practices by showcasing the sustainability efforts of Rancho Cucamonga businesses. Businesses that demonstrate environmental practices in various categories such as waste reduction, pollution prevention, recycling, energy efficiency, water efficiency, transportation, stakeholder engagement, and complete no-cost resource assessments are eligible to be recognized as a Healthy RC Green Business. Participating businesses receive recognition and exposure through City outlets and at a City Council meeting, and are provided with a Healthy RC "Green Business" window decal to display at their business entrance. Participating businesses are also featured in the City's Rancho Reporter community -Morenewsletter, on the Healthy RC website, and on the Healthy RC Living Show broadcast on RCTV-3. The Green Business Recognition Program is part of the City's Healthy RC Program to promote environmentally sustainable practices within City operations and in the community.
"The City is delighted to have Santa Barbara Townhomes participate in the Green Business Recognition Program" said Alana Rivadeneyra, the City's Sustainability Coordinator. "We are looking forward to celebrating Santa Barbara Townhomes' green practices that contribute to a more sustainable Rancho Cucamonga." Santa Barbara Townhomes is a 192-unit townhome community that has incorporated multiple green business practices into its operations. Water is conserved through the use of low-flow showerheads and toilets, a drought tolerant landscape watered by drip irrigation, and an artificial turf dog park. To increase energy efficiency, ceiling fans are installed in all townhome bedrooms, all appliances are energy efficient, over 65% of lights used are LED, and the pool's heating system is powered by solar thermal energy. To reduce waste, flyers and notices are emailed to residents and leasing office staff use recycled content office paper and refurbished toner cartridges. To reduce pollution, the community contracts with an environmentally-friendly pest controller and maintenance staff uses green cleaning products. Urban gardening is encouraged through an on-site community garden where residents have space to grow vegetables, and fruit trees grown on the grounds provide fruit for residents and guests inside the leasing office. To encourage bicycling, residents can check out bicycles daily to ride around the city and a bike rack is also provided near the leasing office.
For More Information - For more information, please contact Alana Rivadeneyra, Sustainability Coordinator, at (909) 477-2700 extension 2047 or by email at Alana.Rivadeneyra(at)CityofRC(dot)us. For more information on the green achievements of Santa Barbara Townhomes and the Green Business Recognition Program, please visit http://www.CityofRC.us/GreenBusiness.