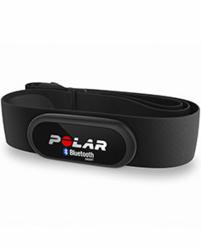 It's like a second skin and the small rubber inlays don't suffer any disruption of signal from any particulate like the Wearlink did
Bozeman, MT (PRWEB) February 26, 2013
The new Polar H6 is a Bluetooth Smart enabled heart rate monitor that communicates with iPhone 4S and iPhone 5 according to the Heart Rate Watch Company.
"The Polar H6 is a little cheaper than the Polar H7 and is ideally suited to someone that is going to strictly use their phone and an app," says Rusty Squire, President of the Heart Rate Watch Company. He adds, "If you need compatibility with a Polar watch or with Polar enabled gym equipment then you are better off getting the Polar H7."
The new H6 uses the new Polar soft strap which was voted as the most comfortable chest strap of 2013 by the Heart Rate Watch Company in January. "It's like a second skin and the small rubber inlays don't suffer any disruption of signal from any particulate like the Wearlink did," says Squire. He adds, "People don't realize it but this new soft strap works with the old Wearlink transmitters too and its a big improvement in strap quality, both comfort and transmission-wise."
Even for Polar users not looking to upgrade watches, the new transmitters are thinner, lighter and the straps are more comfortable according to Squire.
The new Polar H1 transmitter series is intended to go with all Polar FT series watches. The new Polar RC3 GPS watch units use the Polar H2 transmitter as does the Polar RCX3 and other units that used to use the WIND technology. The H6 is for iPhone users that only plan on using their appliance for heart rate and the Polar H7 offers Bluetooth that also works with current Polar watch units and Polar-enabled gym equipment.
"One thing to especially keep in mind regarding the new Polar chest straps is that, with the exception of the Polar H6, all the other straps are integrated with gym equipment," says Squire. He adds, "Polar offers the greatest level of gym equipment integration of any heart rate monitor or chest strap on the market today and nobody else really comes close."
The new Polar H6 Bluetooth Smart chest strap is now on sale at the Heart Rate Watch Company.