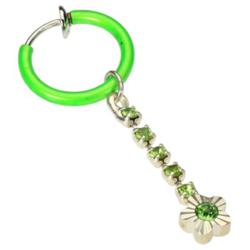 They're really a great value because they can be worn so many different ways; we hope to continue to add more to the website in the coming weeks.
Urbana, IA (PRWEB) February 27, 2013
The new year is quickly shaping up to be another busy one for e-commerce retailer, BellyBling.net. The web retailer has already added several new products to its website, including an entire category of fake belly button rings. The collection, which includes clip on belly rings and stick on nose rings, was added for customers that want the look of body jewelry without the commitment to a real piercing.
Stasi Edberg, the company's purchasing manager, says the new category is getting a positive response from customers because not only are they fake belly button rings that look real, but also because many of the pieces are designed to be worn other ways, besides just as navel rings.
"Some of our non-piercing styles have a spring hoop so they can also be worn as earrings, lip rings, nose rings, or eyebrow rings," said Edberg. "They're really a great value because they can be worn so many different ways; we hope to continue to add more to the website in the coming weeks."
The idea to add fake belly button rings to the product mix on BellyBling.net came directly from customers. Edberg says the company uses traditional means such as customer surveys to gain feedback from customers, but that Facebook is continuing to be an excellent tool for gaining insight into the body jewelry consumer.
"We're up to nearly 18,000 fans on Facebook, so we take advantage of having that direct contact with our customers," said Edberg. "It's a great way to ask questions, post product videos, offer discounts and let them know what specials are coming up that they may be interested in."
While fake body jewelry is gaining popularity, new styles of pierced body jewelry are still continually being added to the website. Edberg says a trend she's seeing is jewelry that has moving parts, or that make a personal statement. Belly rings with holographic detail or spinner balls are popular with customers right now, as are those with a pink ribbon design for breast cancer awareness. Owl belly button rings and stone belly button rings are also so popular with customers that entire categories of the belly rings have been added for each.
According to Edberg, the new additions of both the pierced and the non-pierced body jewelry are only the beginning: "We have plans to roll out many more styles this year; we're excited to continue offering our customers just what they're looking for."
###
About BellyBling.net
BellyBling is an e-commerce merchant owned and operated in Urbana, IA under parent company Clickstop, Inc. Focused on offering trendy, stylish body jewelry, BellyBling strives to make customer service a top priority, with the very best selection, value prices, and extraordinary service to every customer. To view the full selection, visit http://www.BellyBling.net.