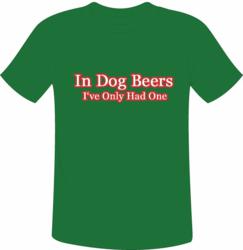 When Irish Girls Drink, They Prefer a Stiff One!
Waltham MA (PRWEB) February 26, 2013
Saint Patrick's Day T-shirts are incredibly popular this time of year. Celebrants do not have to be Irish anymore to celebrate their love for the Emerald Isle and it's lifestyle – the great Irish pubs, the music, the merriment and especially the parades.
American cities like Boston and New York treat March 17th like it's the most important holiday of the year. The celebration includes bagpipes, dancing, shopping, eating and of course drinking. Almost anywhere in the country, without even a drop of Irish blood anyone can celebrate the Feast of St. Patrick.
Of course every celebration demands proper attire. Wear green on this Irish holiday, and lots of it. Standard attire includes funny t-shirts for St. Patricks day, wild and crazy hats, and standard accessories like shamrock themed neckties, scarves and socks.
Pretty much anything to get noticed and make people laugh.
Funny Irish slogan t-shirts often make the desired impression. The competition for irreverent humor is fierce. Phrases like "I don't get drunk,I get Irish" and "In Dog beers I've Only Had One" boldly screen printed on men's T-shirts compete with sassy womens shirts that proclaim "You're Not That Lucky!" and "When Irish Girls Drink They Prefer A Stiff One".
Getting a laugh is the main goal because it often leads to someone buying a drink, or two or three. For that reason, the designated driver is the real "saint" on Patricks day and it is best not to leave for home without one.
Wacky Planet is an online retailer that specializes in gag gifts, quirky gadgets, funny t-shirts and toys. They offer huge selection of t-shirts and other Kitschy merchandise from popular movies and TV shows like Duck Dynasty.Their customer support team is available to answer questions about products, sizing, shipping and other inquiries Monday through Friday from 10am - 4 pm Eastern Standard Time. The toll free number is listed on their website. Online support is also available through their customer service page.