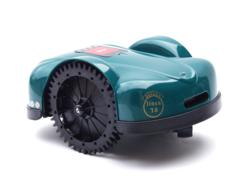 "Home Shows such as these are a great way to meet individual customers and answer their questions on which model is right for their home
Atlanta, GA (PRWEB) February 25, 2013
Kyodo America Industries Co., LTD, makers of the LawnBott® line of robotic mowers, is proud to announce that LawnBott® dealers will be demonstrating the LawnBott® robotic mowers at three different Home Shows this weekend in the Midwest. The snow is almost gone and grass and sunshine are only a few weeks away. Home Shows are a great way to see a wide variety of products to make your home more beautiful and LawnBott® robotic mowers help you to Get Your Weekends Back!™
Avoid cabin fever and Think Spring! Get out of the house and see the LawnBott® at one of these area events:
LawnBott® Twin Cities will be at The Minneapolis Home & Garden Show in Minneapolis, MN Feb 27-Mar 3, 2013 at the Minneapolis Convention Center http://www.homeandgardenshow.com/MHGS/EventsHome.aspx
LawnBott® of the Great Lakes will be at The MABA Home Products Show in Madison, WI,
Mar 1-3, 2013 at the Alliant Energy Center http://www.maba.org/index.php?module=cms&page=136
Stateline Robotic Mowers will be at the Rockford Home Show, Rockford, IL Mar 1-3, 2013 at the ISC Indoor Sports Center http://showtimeproduction.net/homeshow/
Each dealer will be exhibiting a LawnBott® live at the show. For Minneapolis, Madison and Rockford, this will be the very first time the LawnBott® has been shown in their areas. John Tarvin, Marketing Manager for Kyodo America, will be at each dealer throughout the weekend answering homeowner's questions. "Home Shows such as these are a great way to meet individual customers and answer their questions on which model is right for their home" said Mr. Tarvin, "with four automatic models covering up to 2 acres, we have a LawnBott® for almost every yard."
From the LB3510 for larger yards to the new for 2013 LawnBott® LB75 robotic mower for smaller yards, there is a LawnBott® for almost every yard. The LawnBott® LB75 robotic mower is brand new for 2013 and brings robotic mowing to a larger audience offering fully automatic performance at a lower price point. With key features such as fully programmable, LCD display, rain sensor, auto-recharging and capable of handling up to 3 zones for the ultimate in yard control, the LB75 sets the standard in affordable automatic mowers. See the video, here: http://youtu.be/6ZKZDkVihJA.
Kyodo America Industries, Co., LTD, is an Atlanta, GA based manufacturer of lawn & garden products and the LawnBott robotic mowers. LawnBott's were originally developed in Italy and are making their way across the US and Canada. Since 2000, our robotic mowers have been helping homeowners maintain their yards without the sweat and aggravation of conventional mowers. To find out more information and the dealer who services your zip code, please visit our website at http://www.LawnBott.com.