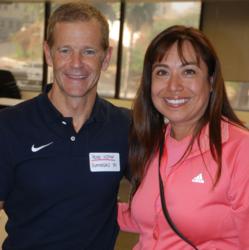 All of our athletes are real life examples of how living a healthy and active lifestyle helped them be successful in sport and in life.
Los Angeles, California (PRWEB) February 26, 2013
Ready, Set, Gold!, a program of the Southern California Committee for the Olympic Games, is proud to announce the launch of its new website, http://www.readysetgold.net.
RSG!, the only program of its kind in the country, tackles the epidemic problems of childhood obesity and chronic diseases by pairing Southern California Olympians and Paralympians with Los Angeles area public schools to help promote student fitness, nutrition and healthy living habits.
Each Olympian is matched to a specific school and meets with the PE classes five times during the school year to inspire, educate and motivate the students toward a long and healthy life through physical activity and good nutrition. During the school visits, Olympians exercise with the students and share their stories of how they became Olympians and the importance good fitness and nutrition played in their success.
Ready, Set, Gold! is primarily funded by worldwide Olympic sponsor Samsung Electronics North America and currently operates in 50 different elementary, middle and high schools throughout the District, positively affecting approximately 25,000 students each year.
There are 41 Olympians participating in the program this year, including 18 medalists. RSG! is chaired by U.S. Olympic gold medalist Peter Vidmar (1984, gymnastics).
"All of our athletes are real life examples of how living a healthy and active lifestyle helped them be successful in sport and in life," said RSG! Director Bernadine Bednarz. "That's the message we emphasize."