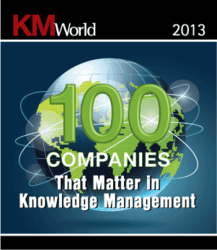 This year's KMWorld 100 represents the organizations in the knowledge management industry that have either helped to create, redefine or enhance a market.
Boston, MA (PRWEB) February 26, 2013
Cambridge Semantics has been named one of KMWorld's 100 Companies that Matter in Knowledge Management. The 13th annual list was compiled by knowledge management practitioners, theorists, analysts, vendors, users and colleagues and recognizes the companies that have demonstrated an unwavering commitment to helping bolster an organization's collective intelligence. To view the full list visit http://www.kmworld.com.
KMWorld Editor-in-Chief, Hugh McKellar noted, "This year's KMWorld 100 represents the organizations in the knowledge management industry that have either helped to create, redefine or enhance a market. Each has demonstrated both velocity of innovation and the agility to serve their customers, directly impacting business outcomes."
Cambridge Semantics' Anzo software brings unprecedented flexibility to the development, deployment and evolution of knowledge management applications. Unlike traditional knowledge management tools, Anzo integrates unstructured data with enterprise sources of structured data into fully interactive applications. Users can collect and edit new data, push changes to data back to existing systems of record, and even allow data models to change as needed, enabling organizations to make solution adjustments as business requirements change.
"Knowledge management professionals need a better understanding of information regardless of where it comes from," said Lee Feigenbaum, co-founder of Cambridge Semantics. "We are committed to helping our customers unlock the practical value of the Semantic Web and build solutions that can not only provide a better understanding of the data they're working with, but discover new relationships and analyze data in ways that can directly impact their business."
To learn more about Cambridge Semantics unique approach to knowledge management visit http://www.cambridgesemantics.com.
About KMWorld
The leading information provider serving the Knowledge, Document and Content Management systems market, KMWorld informs more than 45,000 subscribers about the components and processes - and subsequent success stories – that together offer solutions for improving business performance. KMWorld is a publishing unit of Information Today, Inc.
About Cambridge Semantics
Cambridge Semantics provides the award-winning Anzo software suite, an open platform for building interactive Unified Information Access (UIA) solutions. Enterprises face an increasing need to rapidly discover, understand, combine, and act on data from diverse sources both from within and across organizational boundaries. Anzo makes it easy for both IT and end users to deal with this need by rapidly creating solutions that leverage unified access to structured and unstructured data from varied sources in the context of specific business problems.
Cambridge Semantics is privately held and based in Boston, Massachusetts. For more information visit http://www.cambridgesemantics.com or follow us on Twitter @CamSemantics.