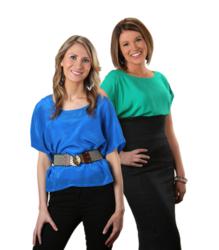 Boise, ID (PRWEB) February 27, 2013
Pink slime, meat glue and maltodextrin. Processed food products like these are neither appetizing nor good for us. Unfortunately, a tough economy forces many Americans to depend on these sorts of low-cost products to survive.
TheKrazyCouponLady.com founders offer a budget-stretching blend of coupons, promotions, sales and strategy to help families eat healthy and live well on a tight budget:
Plan. Make (and follow) a set budget and shopping list to avoid unhealthy or expensive purchases. For the uninitiated, there are many accessible resources devoted to healthy, affordable foods. Consider adding Environmental Working Group's (EWG) free online guide "Good Food On a Tight Budget" to the grocery toolkit. Also, visit TheKrazyCouponLady.com every Wednesday for a weekly roundup of the best bargains on healthy, organic and natural foods.
Do the legwork. Develop a list of trusted sources—online or print—to track sales, promotions and coupons on healthy foods. Get to know your favorite stores, and don't be afraid to price match. Also, keep an eye out for deep discounts on fresh food (like turkeys) around the holidays or special events like National Coupon Month in September.
Read labels. Avoid mile-long ingredient lists. Nutrition drops as lists grow. Watch for red-flag words like high-fructose corn syrup, fruit juice concentrate, maltrose, dextrose, sucrose—all different terms for refined sugar. Instead, seek out labels that have high servings of fiber, vitamins and minerals, and low daily percentages of fat (less than 5%), cholesterol and sodium. Smart choices (available for $2 or less) include canned beans and tuna, brown rice, lentils, oats and greek yogurt. Don't be afraid to shop generic brands, which boast the same healthy ingredients at a fraction of the price.
Shop for the season. Contrary to popular belief, many fresh foods bought in season are very affordable. Apples, bananas, pears, carrots, and broccoli are available for less than the cost of a postage stamp per cup. Such local-grown produce is also environmentally friendly.
Rediscover food storage. When prices are low, buy and freeze fresh foods in bulk to dole out year round. TheKrazyCouponLady.com offers regular tutorials to make buying and preserving fresh foods easy.
Harness the power of Apps like ibotta. Signup is free and takes under a minute. Search ibotta for preferred stores and healthy products before the weekly shopping trip. Answer brief questions about products, purchase them, and upload a photo of the receipt. Savings accrue in a PayPal account, and are returned to members when a pre-set $5.00 minimum is reached.
Go online. Online retailers can sometimes beat brick-and-mortar prices. Consider sites like VitaCost, which deals in quality healthy products at great prices. Another option—KlutchClub—ships boxes stuffed with wholesome products to members each month for a flat $18.
Consumers who keep these tips in mind will stretch their food dollars in this tough economy. To find the latest coupons and sales, along with other frugal living tips, visit TheKrazyCouponlady.com.
Heather Wheeler and Joanie Demer, founders of TheKrazyCouponLady.com and authors of Pick Another Checkout Lane, Honey! are money saving, bargain shopping and frugal living experts. With their knowledge and savvy, they've sold over 50,000 books, garnered 5 million viewers per month at http://www.thekrazycouponlady.com, nearly 900,00 Facebook fans and more than 30,000 Twitter Followers.