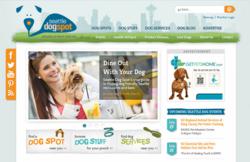 AVA's Gold Award is presented to those entries judged "exceed the high standards of the industry norm".
Seattle, WA (PRWEB) February 27, 2013
Local web design firm, efelle media, wins AVA Digital Award for Seattle DogSpot's dog-friendly business directory and informational website.
The Seattle DogSpot website boasts the largest and most current online database of dog service providers, with over 1,200 dog-related businesses from Everett to Tacoma, and Kitsap County to the Eastside. Powered by the FusionCMS platform, the website provides site visitors with comprehensive listings for dog-friendly venues and events, as well as news, FAQs, adoption opportunities and more.
Last month, the Seattle DogSpot website was nominated for a digital design award. Based on the evaluation of the Association of Marketing and Communication Professionals' (ACMP) judges, efelle media is the Gold Award recipient in the International AVA Digital Awards 2013 Competition in the Informational Website category. AVA Digital Awards is an international competition that recognizes outstanding work by creative interactive marketing professionals. There were approximately 2,000 entries from throughout the United States and several other countries in the 2013 competition.
AVA's Gold Award is presented to those entries judged "exceed the high standards of the industry norm". Award winners are recognized for their excellence in terms of quality, creativity, and resourcefulness.
Seattle DogSpot owner, Robert Pregulman, enlisted the help of local web design firm, efelle media, to redesign his website and improve backend website functionality. In addition to getting a stronger website content management system, Robert was able to get a fully branded custom website design (complete with Robert's own loyal Labrador, Dylan, barking out Seattle DogSpot tweets on the homepage) that optimized and enhanced user experience. The website design includes everything from the "Seattle Dogs, Spotted" image gallery, to the local "Dog Spots" dog-friendly directory, to a news blog, cleverly titled "the Latest Scoop."
With more than 400 successfully completed custom website design and development projects under its belt, efelle media continues to work with a variety of business entities in dozens of industries, from start-ups and local small businesses to large national and international corporations. In addition to its membership and directory platform, efelle media also offers other custom online marketing solutions including web design for ecommerce businesses, law firms, property managers, medical industry professionals, and more.
To learn more about efelle media, visit http://www.efellemedia.com.
To check out Seattle DogSpot's site, visit http://www.seattledogspot.com.
About efelle media
Founded in 2005, efelle media specializes in custom website design and development with an emphasis in organic search engine optimization. Over the past 8 years, efelle media has grown into a full, in-house team of web design and developers, internet marketing professionals, and production and support staff and continues to produce complete online marketing systems for clients nationwide from its Downtown Seattle office.