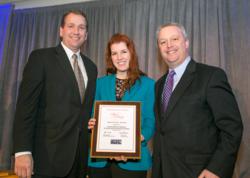 We are thrilled that our partnership with Special Olympics has helped provide opportunities for many athletes in the area.
Boston, MA (PRWEB) February 26, 2013
On February 15, 2013 Hyatt Regency Boston received a prestigious award from the Massachusetts Lodging Association (MLA) for their ongoing special event, Over the Edge for Special Olympics Massachusetts (SOMA). This thrilling event draws hundreds of individuals to rappel down the side of the 22-story downtown hotel in an effort to raise money for Special Olympics athletes.
This partnership between Hyatt Regency Boston and Special Olympics has been an overwhelming success since inception, raising over $300,000 in just two years. The event generates an exciting buzz throughout the city and encourages individual participants as well as teams to work together to raise impactful donations.
Special Olympics Massachusetts is a leader in providing healthy lifestyles through sports and healthcare-related programs for individuals with intellectual disabilities. Special Olympics provides these individuals with opportunities to develop physical fitness, prepare for entry into school and community programs, express courage, experience joy and share their experiences with their families, friends, other athletes and the community.
General Manager, Philip Stamm states, "We are thrilled that our partnership with Special Olympics has helped provide opportunities for many athletes in the area. We want to continue to support those individuals and prove there's nothing they can't do when they try. If they can make that kind of effort every day, certainly we can muster the courage to go over the edge in support of those brave athletes."
Mary Beth McMahon, President and CEO of Special Olympics MA states, "Special Olympics Massachusetts has a tremendous partnership with Hyatt Regency Boston. This event would not be as successful without the impeccable staff of Hyatt Regency Boston led by General Manager, Phil Stamm. These individuals truly define what it means to be a partner of a non-profit. The Hyatt Team has not only volunteered to help in any way possible, but they have also been one of the top fundraising teams each year. I can honestly say this event is a signature event because of Hyatt Regency Boston."
The Hyatt Regency Boston team is extremely proud to receive this MLA award for their annual Over the Edge event. Much effort and collaboration goes into making this a successful event and the Hyatt associates enjoy playing an integral role in such a compelling initiative. Hyatt Regency Boston has announced the 2013 dates for the next rappelling event and invites anyone who would like to participate to sign up at the following link: http://www.overtheedgeboston.com
# # #
About Hyatt Regency Boston
The newly renovated Hyatt Regency Boston boasts ultramodern furniture, creative lighting, state-of-the-art boardrooms, a striking marble registration desk and much more.
Situated in the heart of the city this ENERGY STAR recipient provides luxurious accommodations and a prime location to experience everything Boston has to offer. The 498 room, downtown Boston hotel, places you within walking distance of boutique shopping, numerous theatres, lively night-life and many historic tourist attractions. With 30,000 square feet of flexible meeting space, including a 5,046 square foot ballroom and adjoining terrace, Hyatt Regency Boston can accommodate events of any size or nature. Enjoy the hotel's 24-hour in-room dining, business center and extensive fitness center; featuring an indoor saline swimming pool, eucalyptus steam room, sauna and therapeutic massage services. Spectacular views, convenient location and unparalleled service make Hyatt Regency Boston the perfect hotel for any occasion. For more information please call 617 912 1234 or visit http://www.regencyboston.hyatt.com.