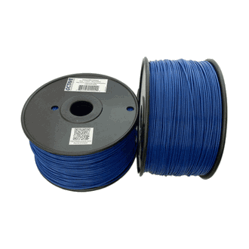 Our goal is to continue to earn our customer's trust by offering quality products at great prices, and providing the high level of customer service expected from Media Supply.
Exton, Pennsylvania (PRWEB) February 27, 2013
Media Supply, Inc., a leading supplier of data, video and archival publishing solutions, excitedly announced the immediate availability of 3D printer filament and accessories. Media Supply's 3D printer filament allows users to easily fabricate objects on-demand when using a 3D printer. Models, prototypes, finished products and replacement parts can be built to order, opening worlds of possibilities. The high-quality ABS filament will work with a variety of 3D printers, including Afinia, Reprap, MakerBot, UP!, PrintrBot, MarketGear, Solidoodle and Ultimaker.
Media Supply's 3D filament is manufactured to very strict specifications, and works at a wide 3D printer extruder temperature range (210 - 250˚C), improving performance by rendering smoother 3D printing. These printers create 3D items by precisely layering extruded bits of molten plastic, so the smoother the 3D printing, the cleaner the finished product.
A new wave of 3D printing machines is making ownership a real possibility for both small business and home users. Not long ago, 3D printers were only available to specialized designers as expensive, industrial machines. Recently, a surge of innovative personal 3D printer manufacturers have made these amazing machines affordable. While many still only see 3D printers as a means for producing cheap jewelry and plastic toys, companies are using this technology daily to create prototypes, replacement parts and customized samples.
"Media Supply has years of experience with production printers and their accessories," said Jonathan Bradlee, Media Supply's President. "With 3D printing, our goal is to continue to earn our customers' trust by offering quality products at great prices, and providing the high level of customer service expected from Media Supply."
Filament for 3D printers is available for purchase on Media Supply's 3D printing page in standard colors, fluorescent colors and glow-in-the-dark ABS filament. 3D printing accessories are available as well, including replacement platforms, knife sets and calipers.
About Media Supply:
Media Supply, Inc. offers production printers, duplicators, consumables, services and fulfillment, designed to meet the requirements of those wishing to distribute products and information in data, audio or video form. The company's key products and services are DVD, CD & Blu-ray Disc™ publishers, USB duplicators, duplication and fulfillment services and premium duplication supplies. Media Supply is headquartered in Exton, Pennsylvania. For more information, visit their website at http://www.mediasupply.com or call 1.800.944.4237.