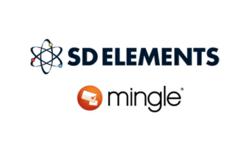 This integration allows security teams to automatically push security requirements into Mingle
Toronto, ON (PRWEB) February 27, 2013
SD Elements (sdelements.com), the preeminent developer's tool for creating the highest level of security in mobile and web apps, and ThoughtWorks Studios, a leading provider in Agile software solutions and training, today introduced integration between Mingle and SD Elements. Under the new partnership, development teams can now use SD Elements to produce a highly accurate and up-to-date list of security requirements in less than 15 minutes and automatically import the requirements into Mingle as cards. Development teams can then build out the non-functional security requirements alongside functional user stories using Mingle's leading project management platform.
"Several of our customers told us that Mingle is their preferred Application Lifecycle Management solution. It was natural for us to seek integration with the product that they consumed their other requirements from," said Ehsan Foroughi, Director of Research, SD Elements. "This integration allows security teams to automatically push security requirements into Mingle, which is the tool that their developers are already using. Allowing development teams to consume security requirements through Mingle dramatically increases adoption of proactive security. This drives down costs and results in more secure software."
"We are delighted to be able to offer Mingle customers the opportunity to take advantage of SD Elements security expertise right from within Mingle. We want our users to have access to the best of breed tools and the SD Elements integration demonstrates our commitment to creating open interfaces to support integrations of all kinds." said Suzanne Prince, product manager ThoughtWorks Studios.
About SD Elements:
SD Elements is the industry's first Secure Application Lifecycle Management (SALM) solution and allows developers, for the first time, to build security directly into a web or mobile application from the start, eliminating 97% of security vulnerabilities. The interactive, easy-to-use software tool guides developers through the secure coding process to ensure that all apps meet the industry's highest level of software security requirements. SD Elements catches and prevents a significantly higher percentage of app vulnerabilities than static analysis and dynamic testing combined. Founded in 2012, SD Elements is a subsidiary of application security firm Security Compass and is headquartered in Toronto.
About ThoughtWorks Studios:
ThoughtWorks Studios makes pioneering tools for software teams who aspire to be great. Its products, Mingle ®, Go™ and Twist® help organizations better collaborate and deliver quality software. ThoughtWorks Studios is a division of global IT services firm, ThoughtWorks, Inc.