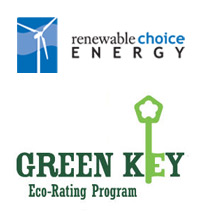 "By working with Green Key Global, we can provide environmental products and services to directly help member organizations improve their environmental impact and Green Key standing."
- John Powers, VP of Business Development for Renewable Choice
Boulder, CO (PRWEB) February 27, 2013
Colorado-based Renewable Choice Energy (http://www.renewablechoice.com) announced today that it has partnered with Green Key Global to provide green power and carbon offsets to hotels, motels, and resorts seeking to further their initiatives within the Green Key Eco-Rating and Green Key Meetings Programs.
The Green Key Eco-Rating Program awards lodging facilities committed to improving environmental and fiscal performance with a "green key" rating based on a comprehensive environmental self-assessment and on-site verification audit. Facilities also receive custom guidance from the program on how to reduce their environmental impacts. Renewable Choice will provide carbon offsets to member establishments at a reduced price, helping facilities to earn additional points toward their overall Green Key score.
"Renewable Choice's clean energy offerings will help our members reduce their environmental impact while simultaneously advancing their Green Key efforts," said Tony Pollard, Managing Director for Green Key Global. "Renewable Choice is a recognized leader in environmental impact mitigation and we're excited to be working with them."
Renewable Choice has been instrumental in helping to reduce the environmental impact of hotels, motels, and resorts over its decade-long tenure. Hilton Hotels, Cambean Hospitality, Callaway Gardens Resort, Xanterra Parks & Resorts, and Starwood Hotels & Resorts are among the industry leaders who have purchased renewable energy or carbon offsets from Renewable Choice. Renewable Choice was also the first to develop the Green Your Event program, which allows conference organizers and meeting facilities like hotels to purchase offsets for event-specific purposes.
"We're delighted to partner with Green Key Global," said John Powers, VP of Business Development for Renewable Choice. "For years, the lodging industry has been helping to lead the way in sustainability and the Green Key program provides those organizations with a tangible way to make a difference. By working with Green Key Global, we can provide environmental products and services to directly help member organizations improve their environmental impact and Green Key standing."
About Renewable Choice
Colorado-based Renewable Choice Energy is a leading global provider of renewable energy credits (RECs), carbon offsets, and supply chain sustainability consulting. Renewable Choice works with Fortune 500 Companies, educational institutions, small businesses, residential customers and has worked on over 3,500 LEED® green building projects. Since 2001, Renewable Choice and its clients have received prestigious awards from the EPA and DOE for supporting and expanding the renewable energy market—including the prestigious EPA Green Power Supplier of the Year in 2012--and have been featured in hundreds of media outlets including The New York Times, Wall Street Journal, CNN, USA TODAY, and more. To learn more, visit http://www.renewablechoice.com.
About Green Key Global
Green Key Global is a leading environmental certification body offering a suite of programs and resources designed specifically for the lodging industry. For more than 15 years its flagship program, the Green Key Eco-Rating Program, has been evaluating and certifying properties in North America and beyond on the scope of their sustainable initiatives. In support of this, Green Key simultaneously educates members on the value these initiatives have on an environmental, social and economic level. The Green Key Eco-Rating Program allows participants to benefit on several fronts – cost savings, increased bookings from environmentally conscious consumers and meeting planners and responsible corporate citizenry. In the United States Green Key is a joint partnership between the Hotel Association of Canada and LRA Worldwide, Inc.