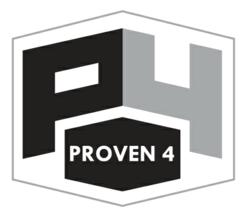 We are thrilled to be able share the Proven4 brand with all of the Warrior Dash participants.
(PRWEB) February 27, 2013
The Michigan-based sports and workout supplement company, Proven4, is thrilled to announce their new partnership with the world's largest obstacle race series, Warrior Dash. Proven4 will be in attendance at the San Diego Urban Warrior Dash on March 2nd, and the Texas Iron Warrior Dash on March 16th.
Proven4 is excited to be providing free pre and post workout drinks to all Warrior Dash participants at these events, as well as a free photo booth and a chance to win a year's worth of Proven4 supplements.
"We are thrilled to be able share the Proven4 brand with all of the Warrior Dash participants. We are excited to be a part of this amazing test of endurance and strength", said Shelley Winslow, co-founder of Proven4.
Warrior Dash, Urban Warrior Dash and Iron Warrior Dash are put on by Red Frog Events, who host countless races and other large-scale events throughout the U.S. and internationally every year. Race day finds participants often donning costumes to run approximately 5K and complete in at least 12 obstacle courses before reaching the finish line.
"Proven4 products align perfectly with our demographic," says Red Frog Events' spokesperson Ashley Beirne, "We're excited to begin the partnership with Proven4 and add another great aspect to the participant experience at our Warrior Dash events."
Proven4 products are endorsed and backed by medical professionals, top industry executives, and internationally recognized professional athletes. Proven4 founders, retired professional athlete Frank Catalanotto and current Tennessee Titan Will Witherspoon, guarantee quality and safety in every product. Proven4 follows rigorous testing requirements and manufactures their nutritional and dietary supplements following only FDA-mandated, cGMPs, and rigid quality control procedures.
Red Frog Events is the leader and founder of the Active Entertainment industry. Based in Chicago, they create fun and extraordinary events through innovation, creativity and top-notch participant service, while laughing all the way. In 2012, the company put on more than 75 events worldwide for a combined total of more than one million registrants. They are most known for their events Warrior Dash, the world's largest obstacle race series, and Firefly Music Festival, the East Coast's premier music experience. They've also received worldwide recognition for their unique company culture and workplace environment
To learn more, visit http://www.proven4.com/urban-warrior