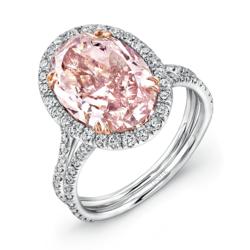 Los Angeles, CA (PRWEB) February 26, 2013
The recent 1.5 million dollar sale of an exquisitely beautiful diamond ring from Uneek by Benjamin Javaheri demonstrates the passion the Javaheri family has given to fine jewelry over many years. In addition to showcasing how business practices that answer the call of consumers don't have to sacrifice quality, the sale also marks a reborn commitment from the entire Uneek team to continue offering innovative jewelry designs that transcend the ordinary and soar into the realm of perfection.
The 1.5 Million Dollar Ring – Uneek invites jewelry lovers to imagine a gorgeous platinum pave-set split shank with perfect brilliant-cut round diamonds. This image alone calls to mind beauty and opulence, but the Uneek designers didn't stop there. The diamond-studded band merges seamlessly into an intricate oval setting also paved with a dazzling array of diamonds. The round cut diamond total for the whole ring stands at 103 equaling 0.80 Carats, but the centerpiece of the ring is what attractsthe attention of most viewers. A flawless fancy pink oval diamond of 5.15 carat rests elegantly inside the white diamond setting, instantly drawing the eye with its crystal clear clarity. Like the entire collection of Uneek's pink diamond rings, this ring speaks to fashion, to success and to the finer side of life.
While Uneek is proud of this ring, the company is equally proud of each stunning piece offered in its line of fine jewelry. From engagement rings to wedding bands to haute couture design, Uneek by Benjamin Javaheri offers jewelry connoisseurs across America a taste of high fashion with a Uneek twist.
About Uneek by Benjamin Javaheri:
Founded by master jewelry designer Benjamin Javaheri in 1997, Uneek fine jewelry collections have become the new standard for beautiful fine diamond jewelry. Known for melding the bold and adventurous American spirit with old-world jewelry creation, Benjamin leads his team with an unwavering eye for detail. The resulting pieces of fine jewelry represent a true amalgamation of modern design techniques with the time-tested art and science of jewelry manufacture from by-gone days. For more information about Uneek jewelry, visit the company's website and browse the collections at http://www.uneekjewelry.com.