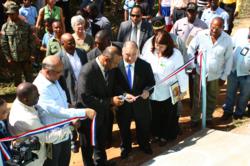 We join with the people of La Cola in anticipating the fruits of this effort for years to come.
Phoenix, AZ (PRWEB) February 26, 2013
The U.S. Ambassador to the Dominican Republic, Raul Yzaguirre, inaugurated a Food for the Hungry-led water project in La Cola, Dominican Republic, on Thursday, February 21, 2013.
The project provides access to clean water, improved sanitation and education on the management and use of water to about 270 families and more than 1,350 residents in the community of La Cola. Food for the Hungry (FH) carried out this initiative in partnership with the community of La Cola, Healing Waters International and Christian Fellowship Church of Evansville, Ind.
The inauguration was held at the Laureano Heredia Primary and Nursery School (Yamasá, Monte Plata province) and is part of the Ambassador's Water, Sanitation and Hygiene in Schools Initiative (A-WASH) which is an effort to support the development of safe water, adequate sanitation and hygiene education in primary schools worldwide.
During the event, Ambassador Yzaguirre said he was happy to see the level of community empowerment and exhorted all leaders and community members to continue their efforts.
Local students demonstrated what they have learned about proper hand washing. The provincial governor and Ambassador Yzaguirre cut the ceremonial ribbon together.
The United Nations has declared 2013 as the International Year of Water Cooperation.
Dr. Martha Butler de Lister, FH/Dominican Republic Country Director was also present and commented on the occasion saying, "I can't think of a better way to begin this year of water cooperation than celebrating the completion of this project that has truly been a partnership. We join with the people of La Cola in anticipating the fruits of this effort for years to come."
FH has led community development projects in the Dominican Republic since 1979 and currently works in more than 27 communities, primarily focused on water, sanitation, child development, church strengthening and other infrastructure projects.
###
Founded in 1971, Food for the Hungry provides emergency relief and long-term development programs in more than 20 countries to help the world's most vulnerable people. Learn more by visiting http://www.fh.org. Social connections include http://www.facebook.com/foodforthehungry and http://www.twitter.com/food4thehungry.