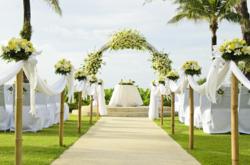 Newport Beach, CA (PRWEB) February 26, 2013
Weekday weddings are becoming more commonplace for several different reasons, but no matter what that reason may be, a nontraditional wedding held during the middle of the week can result in major financial savings, reports Wedding.com.
Some people choose to have their wedding on a weekday rather than the typical Saturday nuptials when an important date happens to fall midweek or religious restrictions call for it. The primary reason, however, often stems from budget issues (http://www.nytimes.com/2013/02/24/fashion/weddings/midweek-weddings-become-more-popular-field-notes.html?_r=1&). Experts at Wedding.com advise brides looking for cost-cutting options to inquire about having their wedding sometime between Sunday through Friday. Business tends to be much slower midweek for wedding vendors, making it financially advantageous for brides open to a non-Saturday wedding.
"Venues usually have deeply discounted packages for brides willing to plan their event in the middle of the week," says Brett Reynolds, CEO of Wedding.com. "Other wedding vendors such as photographers, DJs, and videographers also often offer midweek discounts or provide additional services at no extra charge. A bride could easily save 30-50% just by getting married on a weekday."
For more information about Wedding.com, please visit http://www.wedding.com.
About Wedding.com
Wedding.com is an innovative new website that connects engaged couples planning their wedding with wedding vendors looking to grow their business. Wedding.com contacts vendors for couples, giving them the power to compare and negotiate while ultimately saving time and money. With 12,000 couples and 22,000 vendors currently using the website, 105,000 proposals have already been sent since their inception. Vendors range in services from wedding planners, photographers, florists, and DJs to custom invitations, party favors, and much more. For additional information about the company and its services, please visit http://www.wedding.com.