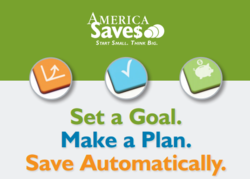 The chat about savings will reach over 2.1 million impressions on Twitter.
Los Angeles, California (PRWEB) February 26, 2013
Upromise and personal finance blog Wise Bread has partnered up to host a tweetchat in celebration of America Saves Week. The chat will take place on February 28, 2013 from 12pm PST to 1pm PST, feature $500 in prizes, and will discuss ways to save $100 a month.
Participants will have the opportunity to win a $200, $100, or one of four $50 gift cards to Amazon.com. To have a shot at winning a prize, participants must follow Wise Bread (@WiseBread) and Upromise (@Upromise) on Twitter, RSVP for the chat, and participate in the chat using the #WBChat hashtag. For details on the chat and to RSVP, check out the official chat page.
Upromise (Upromise.com) is supporting America Saves Week by providing the $500 in prizes. Upromise by Sallie Mae's mission is to educate and encourage families to save for college so they can achieve their educational goals. With Upromise, money you need to spend today can help pay for your children's college in the future with cash back for college.
By shopping at Upromise.com, you can get 5% or more of that spending back for college from hundreds of major online retailers such as Target.com, Staples.com and Oldnavy.com. In addition, members can earn cash for college dining out, booking travel, buying gas and purchasing other services.
"I like that it helps increase the value of my dollar and puts the extra earnings into funding my greatest passion – my children," said Wise Bread blogger Linsey Knerl in a recent review of Upromise. "A growing Upromise account balance is a reward you can feel good about providing for the next generation."
"Upromise by Sallie Mae helps people save for their education, but it also helps serve as a constant reminder of the importance of saving regularly," said Erin Condon, vice president, Sallie Mae. "We are thrilled to partner with America Saves and Wise Bread to help provide information and ideas for saving money."
The chat is a celebration of America Saves Week. America Saves Week is coordinated by America Saves and the American Savings Education Council. Started in 2007, the Week is an annual opportunity for organizations to promote good savings behavior and a chance for individuals to assess their own saving status. Typically, over 2,000 organizations participate in the Week reaching millions of people.
Wise Bread's sponsored tweetchats reach around 115,000 people and have an average of 2.1 million impressions. All recent sponsored chats have trended on Twitter in the United States.
"We are excited to team up with Upromise to promote America Saves Week and discuss ways to save $100 per month," said Ashley Jacobs, Wise Bread's Community Coordinator. "Upromise is providing awesome prizes and we are looking forward to educating people on saving tactics!"