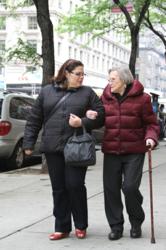 The Shop & Escort program has allowed me to feel independent by allowing me to make it to all my doctors' appointments on time...
New York, NY (PRWEB) February 27, 2013
Winter weather often increases the social isolation of the elderly, preventing them from venturing outside and sometimes keeping them from much-needed medical appointments. Rain or strong wind can also be deterrents, forcing seniors to subsist on what is in their cupboards for longer periods than anticipated.
DOROT's Shop & Escort program addresses some of the challenges that face frail and isolated older adults when weather and decreased mobility affect their quality of life. We provide trained escorts to support seniors, both physically and emotionally, as they attend medical appointments, shop for food or medications, or take a health-enhancing walk in the fresh air. We also shop for elders who are too vulnerable or debilitated to leave their homes.
The escorts are coordinated by DOROT staff to facilitate timely fulfillment of scheduled appointments and to ensure that other needs are met. For example, in addition to bringing an older adult to the doctor, the escort may stop at the pharmacy to pick up needed prescriptions or at the corner store for other necessities while bringing the senior safely home. Shop & Escort gives older adults "door through door" service, providing support starting before they leave their home until their return.
DOROT social workers strive to ensure that the assistance of the trained escorts not only helps seniors maintain their independence, but also adds to their quality of life. Program participants are polled regularly about their satisfaction with their Shop & Escort experience. One elder who utilizes the program told us, "Without the help of DOROT I would not be able to live on my own. The Shop & Escort program has allowed me to feel independent by allowing me to make it to all my doctors' appointments on time and buying some groceries here and there."
Another older adult stressed the vital importance of this service in preventing more serious health issues, informing us that "being able to make it to all my appointments has kept me from going to the emergency room or being hospitalized."
Elders also appreciate the courtesy and kindness of the escorts. "[My escort] delivered me home safe and sound," said one senior. "I can't tell you what a sweet, caring and positive person she is. She made a dreadful day a positive one for me."
DOROT's Shop & Escort program provides escorts to any destination in Manhattan for older adults residing between 59th and 125th Streets on the West Side or 50th and 96th Streets on the East Side.
Since 1976, DOROT has worked to alleviate social isolation among the elderly and provide services to help them live independently as valued members of the community. We serve the Jewish and wider community, bringing the generations together in a mutually beneficial partnership of elders, volunteers and professionals.