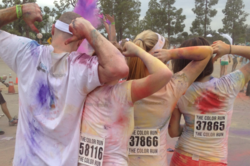 Valencia, CA (PRWEB) February 25, 2013
On February 2, 2012, six employees of Scorpion Design, Inc. participated in The Color Run™ 5k at Dodger Stadium. The unique 5k promises a good time for all participants – with the 3 mile run culminating with a "Picasso-painting madness." At the each of each Kilometer, participants enter into what is known as the Color Zones and are bombed with a designated color for each area: yellow, orange, pink, or blue.
At each event, The Color Run™ picks a local charity that they will donate their funds toward. At the Los Angeles event, the charity of choice was Casa Colina – a long-term healthcare client of Scorpion. Case Colina Centers for Rehabilitation has been serving the local community for more than 75 years, providing a unique environment for rehabilitation. Focused on recovery, their caring professionals combined inpatient and outpatient care, as well as transitional and long-term residential care to meet the needs of all patients. To learn more about the rehabilitation center, please visit them online at http://www.casacolina.org.
Scorpion was proud to help support their long-standing client by participating in The Color Run™ Los Angeles. As an Internet marketing and website design company, Scorpion prides itself on the long-lasting, personal relationships that they build with their clients. Although they primarily focus on helping clients build their presence and business online, they also fully embrace opportunities to help them offline as well.
"The Color Run was such a fun experience," said participant Melanie Hopper. "It was a blast to spend the day supporting Case Colina; I feel lucky to be a part of such a caring company – I have to say we really care about our clients. We support each other and are always willing to go above and beyond in everything we do, which is why when we found out about The Color Run, we knew that we had to do it!"
While it was a great opportunity to show support for their client, Scorpion employees themselves also benefited from the event themselves. "This definitely was the happiest race on the planet," said another participant, Trine Jensen. "I felt like a young kid again that wasn't afraid to get a little dirty (or a lot). I definitely am going to return next year!"
Scorpion Design, Inc. is an Internet marketing and website design based in Southern California. By pairing award-winning design work with SEO and marketing professionals, they have proven themselves adept at helping clients increase their online presence. Their work has earned them numerous awards, including 2012 WebAward for Best Legal Website, as well as Legal Standard of Excellence and Outstanding Website. If you'd like to learn more about their company, please visit them online today at http://www.scorpiondesign.com.