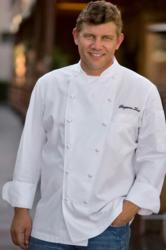 People want to eat real food and they want to know where their food is coming from - that's really what Yuma Lettuce Days is all about.
YUMA, ARIZONA (PRWEB) February 26, 2013
Sure, Yuma Lettuce Days is all about the green stuff. But salad is just the first course at this agricultural "feastival" organized by Yuma Visitors Bureau and showcasing the diverse bounty of this fertile river delta - and the delicious dishes that can be created from it.
This year's headliner is Chef Ben Ford of Ford's Filling Station in Culver City, Calif. - son of famed actor Harrison Ford - who'll give live cooking demonstrations in an outdoor kitchen, along with an all-star lineup of local talent.
Also on tap, "kale gating," a beer garden, lots of Kids' Ag-tivities, five different cooking contests, a farmers' market, fancy vegetable and ice carving, plus a tasting event with an array of specialties from local restaurants, along with wine and beer.
The homegrown celebration kicks off at the Yuma Quartermaster Depot State Historic Park on the Yuma riverfront March 9 & 10. Hours are 9 a.m. to 5 p.m. Saturday and 9 a.m. to 3 p.m. Sunday, and tickets are $5, kids 12 & younger admitted free. Get the full schedule at http://www.yumalettucedays.com
"People want to eat real food and they want to know where their food is coming from - that's really what Yuma Lettuce Days is all about," said Linda Jordan, executive director of Yuma Visitors Bureau, the festival organizer. "We're highlighting the fresh and healthy produce Yuma delivers to all of North America."
As a chef and restaurateur, Ford is known for his creativity and for celebrating the cycle of life through his treatment of ingredients. He has appeared on Iron Chef America, The Today Show, Martha Stewart, After Hours with Daniel Boulud, Jaime Oliver's Food Revolution, Bizarre Foods with Andrew Zimmern, Supper Club with Tom Bergeron, and The Food Network Sandwich Challenge, and delights crowds with his energy.
Also attending Lettuce Days this year will be radio personalities Bob & Sheri, whose North Carolina-based show is syndicated nationwide. They'll assist with cooking demos and judge a cooking contest, as well as "meeting & greeting" their fans. Back by popular demand is Chef Ray Duey, world renowned for the fanciful fruit and vegetable sculptures that earned him gold medal honors in a Food Network challenge - and lots of Yuma fans. Keeping their cool as the competition heats up will be ice-carving artists who quickly transform a giant block of ice into a frozen masterpiece worthy of a gala banquet.
To please palates along with eyes, the Yuma's Recipe Box tasting event returns from 1 to 4 p.m. Saturday. For just $10 per person, adult tasters (18 or older) can sample specialties from a dozen local restaurants, along with wine from Yuma's Main Squeeze winery and assorted Budweiser brews for those 21 or older. Tickets are limited to ensure all get their fill, and are on sale in advance at YVB's Visitor Information Center, 201 N. 4th Avenue, 800-293-0071 or 928-783-0071. Proceeds from Yuma's Recipe Box benefit the Western Growers School Gardens Project.
Aspiring chefs can also compete for cash ($250 first prize, $150 second prize, $100 third) in four different cooking competitions: Make a Date with Bob & Sheri, Make Me Eat It Cooking for Kids Challenge, Healthy Eating the RV Way, and Color Your Plate (get details, rules & entry form at yumalettucedays.com). In the fifth and final contest, Chef Ben Ford will autograph a handmade ceramic salsa bowl for the lucky maker of the sassy salsa that best complements the smoked brisket taquitos Ford is creating especially for Lettuce Days.
"Windshield" tours of Yuma agriculture areas narrated by local growers have been another Lettuce Days favorite - so much so that tickets usually sell out quickly. To feed the hunger for ag info, buses run every 1/2 hour from 10 a.m. to 2 p.m. Saturday and from 10 a.m. to 1 p.m. Sunday. Ag tour tickets are also available in advance ($10 including Lettuce Days admission) at the VIC.
Youngsters can enjoy Dole's Kids' Ag-tivities and Toddler Town area with a straw-bale maze, digging for worms in a special "soil bank" and lots more, including special kids' gift bags with healthy snacks and a Dole character plush toy.
Lettuce Days still being a festival, there will also be live entertainment and plenty of fun food and drink available, too, including a a "kale gating" area sponsored by Taylor Farms. The popular "Toss it Up" salad bar sponsored by Tanimura & Antle will be joined this year by lettuce wrap treats at the "It's a Wrap" station, also sponsored by Tanimura & Antle and featuring its Artisan Romaine.
Folks can meet and talk to area growers and shippers at the "Get your Ag Scoop" booth, sponsored by the Yuma Area Agriculture Council. In addition, there will be tractors and field equipment on hand for inspection, along with the chance to purchase fresh produce and other locally produced goods at the farmers market.
"We're planning to have something for everyone at this year's Lettuce Days," Jordan said. "Come on out and lettuce entertain you!"
Yuma Visitors Bureau markets the Yuma area within the travel and tourism industry and to the general public. A longtime favorite with sun-seeking snowbirds, Yuma's population nearly doubles in the winter months, thanks to more than 23,000 spots in RV parks and resorts. The community also offers nearly 4,000 hotel rooms, conference and meeting facilities, and three casinos. For more details about Yuma's year-round attractions, special events - and Guinness world record sunshine - go to http://www.visityuma.com or call 800-293-0071.
Yuma Visitors Bureau contact:
Ann Walker, 928-376-0100 (office), 928-210-9044 (cell), ann(at)visityuma(dot)com
Yuma Lettuce Days contact:
Susan Sternitzke, 928) 276-3408, 928-246-9255, susan(at)limelightcreativegroup(dot)com
Visitor Information Center: 1-800-293-0071 <> http://www.visityuma.com
** Need hi-res photos? Email or give us a call! **