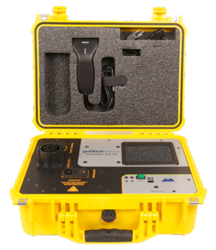 The acceptance of electric vehicles ultimately depends on the availability and successful operation of EV charging sites
Westlake Village, Calif (PRWEB) February 26, 2013
Gridtest® Systems today announced the availability of its EVE-100S Test Solution for Electric Vehicle (EV) chargers. The EVE-100S is designed for use in R&D and certification labs for EV Supply Equipment (EVSE), where it is used for safety, conformance, and interoperability testing of EV charging systems. The EVE-100S is high-accuracy test tool that dramatically reduces the cost of charger development, time to market, and expenses associated with recalls and returns.
During 2012, a number of instances of charging station problems resulted in EV owners being advised not to charge their cars with specific chargers. With more than 60 plug-in EVs and more than 100 EVSE types available today, interoperability is becoming more complex. It is cost prohibitive for charger manufacturers to test their products against every electric vehicle. In order to ensure interoperability, EV and EVSE manufacturers alike must rely on conformance to well-defined industry standards. The EVE-100S is a standards-based test system that validates conformance of EVSEs, quickly identifying compatibility and interoperability issues.
The EVE-100S contains a powerful digital analyzer that replaces a lab bench full of expensive and cumbersome test instruments. An evolution of the highly successful Gridtest EVE-100L laboratory tester, the EVE-100S runs automated and manual tests to confirm the safe operation and compliance of EV chargers to industry standards in the USA and worldwide. Test suites are provided for conformance to SAE J1772™ and IEC 61851-1, with new interoperability tests, timing tests, and high-accuracy pilot and control signal tests. The EVE-100S is also a perfect tool for end-of-line production testing to guard against manufacturing failures.
"The success of electric vehicles ultimately depends on the availability and successful operation of EV charging sites. With limited vehicle travel range, a big part of this will be owners' confidence that public charging stations work 100% of the time," said Neal Roche, CEO of Gridtest Systems. "Charger manufacturers can best do their part by pre-testing compatibility and interoperability with test systems such as the EVE-100S."
The EVE-100S is available for immediately worldwide delivery. The EVE-100S is complemented by Gridtest's EVE-100J portable field test product, which tests post-installation charger operation. Gridtest is an active participant with standards bodies working on EVSE specifications and test requirements. For more information, contact Gridtest at http://www.gridtest.com or call +1.818.600.2370 in the US and +33 977 195 434 in Europe.
About Gridtest Systems, Inc.
Gridtest® Systems, a global Electric Vehicle (EV) infrastructure test equipment manufacturer, is the first to deliver test systems that measure and record interoperability, and demonstrate reliable and safe operation of EV charging stations, in accordance with United States and international industry standards. The company's EVE-100 effectively mimics an "EV in a box" providing users with an intuitive, one-touch tool that verifies and tracks EV charging station operation in a lab environment and in the field, without the need of an actual EV being present. Gridtest® was one of the first companies to graduate from the Los Angeles Clean Tech Incubator, and in October 2011, the company won the Cleantech Open California Region, the world's largest business competition designed to foster the most promising clean technology start-ups. A trusted independent source for the EV industry, Gridtest sells its test equipment directly and through a global network of authorized dealers.