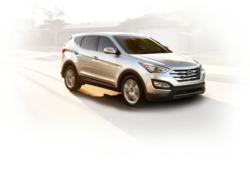 The 2013 Hyundai Santa Fe offers virtually everything that today's compact SUV driver desires and more.
Scottsdale, Arizona (PRWEB) February 27, 2013
The third-generation Santa Fe delivers Hyundai's recipe of bold design, high-output powertrains with Gasoline Direct Injection (GDI) and a host of features to please drivers and passengers with high expectations for functionality, versatility and comfort. Starting at about $24,000 the 2013 Hyundai Santa Fe offers a lot of vehicle for a relatively low price.
"The smaller Santa Fe model is very popular with our customers. It's fun to drive, comfortable and solid with plenty of space to haul gear. The larger model has generated quite a bit of buzz already, and we expect the arrival of the seven passenger trim in late March or early to mid-April," said Rolland Schreiber, General Manager of Chapman Hyundai Scottsdale.
Hyundai designers crafted Santa Fe Sport and three-row Santa Fe together, with the signature differentiating element being the side view daylight opening (side window shape) - the larger Santa Fe features a shape that highlights the increased passenger and cargo room behind the third-row seat. Santa Fe also has its own bodyside character lines from the B-pillar back, grille design, 18-inch Euroflange alloy wheels, chrome-tipped dual exhaust and a flush-mounted tow hitch design.
The Santa Fe is powered by the highly acclaimed 3.3-liter V6 engine, which is also found in the Hyundai Azera. This V6 engine will suit a shopper's needs in terms of towing, drivability and fuel economy. The Santa Fe's Lambda II 3.3-liter GDI also has a high-pressure direct injection system (over 2,200 psi), which dramatically increases power and torque, while reducing fuel consumption and emissions. The 2013 Hyundai Santa Fe is rated at 21/33 city/highway miles per gallon, keeping it in line with Chapman Hyundai Scottsdale's other efficient offerings.
Building on tremendous momentum from consecutive years critical and market success, Hyundai's new 2013 Santa Fe raises the compact SUV bar even higher. Designed to rival models like the Porsche Cayenne at a fraction of the price and to outclass the Honda CR-V and Toyota RAV4, the Hyundai Santa Fe is safe, stylish, reliable, and versatile, with both five- and seven-passenger models to accommodate families and friends alike.
The 2013 Hyundai Santa Fe offers virtually everything that today's compact SUV driver desires and more. To learn more about the Hyundai Santa Fe, visit the Phoenix Hyundai dealership's website at http://www.chapmanhyundaiscottsdale.com.