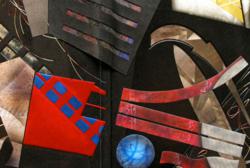 I am a maker of books who is happy making them. My goal is to enjoy developing the craft and inventing the art that goes into my work, and to take whoever is willing along with me to share the journey.
San Francisco, California (PRWEB) February 25, 2013
The San Francisco Center for the Book is pleased to announce two workshops and a public lecture with visiting instructor, artist and bookbinding expert, Donald Glaister. These specialized bookbinding workshops are being held in conjunction with American Academy of Bookbinding and Hand Bookbinders of California.
The first workshop is Leather Box Making and takes place during the week of April 8 – April 12, 2013 at the San Francisco Center for the Book at 375 Rhode Island.
Many finely bound books have leather boxes made for them, but there are many more uses for leather boxes than to house special books. Portfolios of prints or photographs, manuscripts, valuable ephemera or books that should not be rebound all can be collected and stored in leather presentation boxes. The handmade leather box offers elegant protection for objects as well as an opportunity for bookbinders to work with objects otherwise not available to them.
The second workshop is Hey, I Have An Idea! Now What? Producing a Design Binding from B* to Z and takes place from April 15 – April 19, 2013.
This highly personalized class will make clear the process of producing a design binding from the time that the concept for the binding is formed to the completion of the binding.
There will be a free public lecture with Donald Glaister, open to the entire book arts and bookbinding communities. It will take place at the San Francisco Center for the Book at 375 Rhode Island Street on Friday, April 12, 2013 from 6:00 – 8:00pm
Donald Glaister is the Director of the Fine Binding Program at the American Academy of Bookbinding, and a book artist. He began his bookbinding career after taking degrees in painting and sculpture from San Jose State College in California, and studying binding privately with Barbara Hiller in San Francisco and Pierre Aufschnieder and Roger Arnoult in Paris.
The professional design bookbinding career of Donald Glaister spans more than thirty years, and has centered on the exploration, development and use of unexpected binding materials, visual humor and spontaneous visual expression, while working within the classical framework of the European binding form. Beginning in 2002, Glaister's work expanded to include the design and production of editions of artist books that include painting, sculpture and poetry that Donald has made.
The Hand Bookbinders of California gathered for the first time in 1972. A close-knit group of hand bookbinders, with shared interests in creating and collecting fine bindings, joined together to promote hand bookbinding and related book arts and to exchange information and ideas. HBC membership now includes students, makers of artists' books, collectors, conservators, papermakers and paper decorators, fine printers, printmakers, writers, book dealers and other lovers of the book arts.
The San Francisco Center for the Book fosters the joy of books and bookmaking, the history, artistry, and continuing presence of books in culture and enduring importance as a medium of self-expression. SFCB provides both a home for Bay Area book artists and a place where the wider community can discover book arts. Everyone is welcome – experienced practitioners and newcomers alike. Over 300 workshops annually offer learning at all levels: from introductory to focused advanced courses spanning traditional bookbinding, cutting-edge printing techniques and experimental book forms. Exhibitions are designed to inform and inspire visitors. Free public programs include opening receptions for the exhibition program, poetry readings, book release parties for our publications, gallery talks, Open Houses and other community events like the annual Earth Day Extravaganza and Roadworks Street Fair.