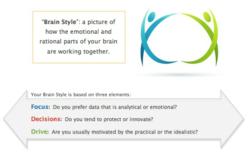 There are many online tests that describe behavior profiles. Brain Style looks at what really DRIVES behavior.
San Francisco, CA (PRWEB) February 26, 2013
Emotional intelligence is the ability to be smarter with feelings, a powerful skillset for leaders, and for everyone to lead their own lives more effectively. Research shows that the skills of emotional intelligence drive some 55% of variation in performance – including effectiveness, decision-making, influence, relationships, health, and quality of life. While there are many valid emotional intelligence tests available today, until now, the valid tools are complex assessments.
The Brain Brief Profile is comparable to a tool like DISC, a simple, clear profile. However, where tools like DISC, MBTI, or Insights focus on behavioral profiles, the Brain Brief focuses on "Brain Style," a learned preference for processing data.
Psychologist and emotional intelligence expert Lorenzo Fariselli, the Research and Development Manager responsible for the research driving the BBP, explains: "There are many online tests that describe behavior profiles, but they focus on the surface. Brain Style provides insight to what is really driving the behavior, or what is driving workplace talent."
The SEI, or Six Seconds Emotional Intelligence assessment, is the best-in-class psychometric tool for measuring the competencies for putting emotional intelligence into action. Where other tests provide insight, the SEI provides a compelling process framework to apply the science of emotional intelligence in practical settings. The SEI is used by companies and organizations such as FedEx, the US Navy, HSBC, and BMW for leadership development training and other HR training.
The Brain Brief Profile and SEI Assessment tools are published by Six Seconds, The Emotional Intelligence Network. Six Seconds is a global network supporting people to create positive change - everywhere, all the time. Six Seconds' experience and research shows that the skills of emotional intelligence (EQ) are invaluable for leading change. Therefore, the organization conducts research, develops powerful measures and tools for EQ development, and supports a world-wide network of experts to put the learnable, measurable skills of emotional intelligence into action. Their vision is that by 2039, one billion people will be practicing the skills of EQ. For more information, see http://www.6seconds.org/about.
Six Seconds' Founder, Karen McCown, authored a method for integrating emotional and academic development, called Self-Science, first published in 1978. In 1995, Daniel Goleman described the Self-Science process as one of two models for teaching emotional intelligence. Established as a 501(c)3 organization in California in 1997, Six Seconds is now a global network with offices in San Francisco, Bologna, Amman, Dubai, Beijing, Tokyo, Mumbai, Singapore, Kuala Lumpur, and Jakarta, plus representatives Bogota, Sao Paulo, Vilnius, Lisbon, and Durban.