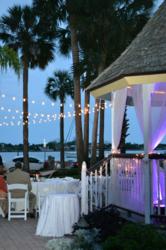 No outdoor wedding is complete without lighting.
St. Augustine, FL (PRWEB) February 27, 2013
Wedding season is just heating up in northern Florida, but the owners of the Bayfront Marin House have already spotted a big trend for 2013: wedding lights.
"The biggest trend by far is wedding lighting this year," says Sandy Wieber, owner of the award-winning bed and breakfast in St. Augustine. "Whether it's lanterns and luminarias at night, or colored lights highlighting the curtains in our gazebo, our couples are adding lighting packages to even small weddings."
Wedding lighting is a wonderful way to add warmth and color to an event, without having to commit to a single color palette.
"Most lighting packages allow choices in the colors," says Wieber. "So you can use a soft pink or purple during the vows, and something more lively, like a neon blue or green during the reception."
Lighting isn't just for night weddings, either. Soft lighting is one way to spotlight the buffet line, or the gift table, or the guest book. "Linens on these tables are often white, and a soft colored light--even Christmas lights gathered underneath the linens--are a great way to bring life to these areas," says Wieber.
Candles are popular day or night, but simple candles are out. Wieber's brides are hosting decorating parties where the guests decorate small candle holders with buttons and ribbons and crystals. The results are beautiful and very personal, she says.
Finally, no outdoor wedding is complete without lighting. "If you're in an outside venue, you can use lighting to define the space," says Wieber. Lanterns can be used in groups around the perimeter of the dance floor, and rows of luminarias can create an aisle in any area. Additionally, strung lights can create the illusion of a ceiling, which makes a large outdoor space seem more intimate."
"You can use a little or a lot," says Wieber. "Once you've found the person who lights up your life, it's only appropriate to light up your event as well."
About the Bayfront Marin House:
The Bayfront Marin House in Saint Augustine, Florida is a 15-room, luxury bed and breakfast inn. Located on the Matanzas Bay, the bed and breakfast offers stunning views of the water, hot southern breakfasts each day, along with the highest levels of personalized customer service. For more information on the Bayfront Marin House, or to make a reservation, visit http://www.bayfrontmarinhouse.com, or call 904.824.4301.