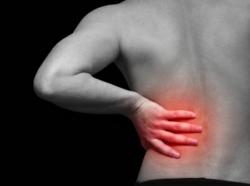 "Five or six times a year I treat a patient who has progressed from backache to paraplegia over a few months time via discitis or cancer or cord/cauda equina compression." - Dr. Thongtrangan
Phoenix, AZ (PRWEB) February 27, 2013
Dr. Thongtrangan educates AWCCA members on the red flags of back pain and when additional treatment is necessary
Most back pain that Dr. Thongtrangan sees is benign, but some isn't. "Five or six times a year I treat a patient who has progressed from backache to paraplegia over a few months time via discitis or cancer or cord/cauda equina compression," states Dr. Thongtrangan. Outlined here is a quick background on incidence, pathology and back pain costs, followed by the "red flags" Dr. Thongtrangan states individuals working with patients or employees with back pain need to be aware of to identify serious cases.
Incidence. According to the U.S. Bureau of Labor Statistics, there were 4.2 million nonfatal occupational injuries and illnesses reported by private industries in 2005. The body part most often involved in these injuries was the trunk, with 63% of injuries to the trunk involving the spine. As many as 90% of individuals with occupational nonspecific low back pain are able to return to work in a relatively short period of time, however, some are not and need more attention – especially those with "red flags". If no red flags are present, the patient should be encouraged to remain active, minimize bed rest, use ice or heat compresses, take anti-inflammatory medications if desired and return to work as soon as possible.
Pathology and Natural History. Acute spine imaging is generally useless in determining the source of symptoms as the odds are 50/50 that a lumbar-asymptomatic patient will have major degenerative abnormalities in an imaging study (from xrays to MRIs) that do not cause any pain. Dr. Thongtrangan believes that the bone spur or degernated disc in the xray has a high possibility of having been there prior to injury and pain.
Most acute structural spine disease get better with time. Acute sciatica from disc hernia resolves within weeks in 60-75% of cases, acute symptoms from spinal stenosis or spondylolisthesis within a few months for 70% of cases and insufficiency fratures within 3-4 months for 70% of cases.
Cost. Although spine care is costly, Dr. Thongtrangan states that 10% of patients who have recurrent or chronic pain generate 90% of this cost. The Cochrane collaboration meta-analysis website (http://www.cochrane.org) uniformly reports little long-term benefit from virtually all back care treatments with the exception of cognitive behavioral therapy. However, there are several very real structural spine pathologies that can benefit greatly from acute diagnosis and care including discitis, metastatic lession and chronic cauda equina syndrome which may result in paraplegia and death if untreated.
These conditions are all too common in a referral spine practice like Dr. Thongtrangan's and unfortunately due to the scarcity of spine surgeons, primary caregivers oftentimes carry the burden of screening these cases.
So, what can be done? "A lot can be achieved by remembering the usual profile of benign back pain and the recognition of red flags for low back pain," states Dr. Thongtrangan.
Benign chronic or recurrent back pain generally presents around the 40s, most often in the lumbar region of males who do heavy physical work and have a history of work injuries or other trauma. Pain episodes are generally of stable or consistent intensity, improving with rest and lacking neurological or constituional symptoms or locomotor disability.
What are the red flags?
1. History of onset at age either greater than 50 or less than 20 years
2. The absence of a trauma/injuries history (i.e. spontaneous onset of pain)
3. Pain is located outside of the low back region where cancers, fractures and infections are actually quite rare
4. A history of significant trauma can be a red flag for fracture
5. A history of cancer in a patient who presents new-onset low back pain should be considered as metastatic
6. A history of high risk of immunosuppression (identified as AIDS or HIV, recreational drug or steroid users or immunosuppressants) should be considered discitis until proven otherwise
7. A history of neurological symptoms like numbness/tingling or claudication (i.e. I can only walk a short distance or time before my back pain forces me to stop). These findings are found from asking the patient, not always from a physical exam
8. Constitutionality – the backache patient is losing weight or has fevers
9. Pain that isn't mechanical and persists even when lying down
10. A history of rapidly escalating pain typically indicated through the need for increased amounts of pain drugs daily or weekly
To uncover these red flags and screen your patient in only a few minutes, Dr. Thongtrangan recommends asking the following questions to patients.
How old are you? (Red Flag #1)
Where is the pain? (Red Flag #3)
How did it start, with no injury or serious trauma? (Red Flag #2, #4)
Any history of cancer, immune suppression or recreational drug use? (Red Flag #6)
Do you have neurological symptoms? (Red Flag #7)
Have you been experiencing fever or weight loss? (Red Flag #8)
Does it get better when you lie down? (Red Flag #9)
Is it pretty stable in intensity or is it worse than it was last week? (Red Flag #10)
Dr. Thongtrangan strongly recommends that any patients whose answers raise red flags be referred to a qualified spine surgeon. Keeping all of these red flags in mind is key in identifying the serious conditions that could potentially turn out with disastrous consequences if missed.
Dr. Thongtrangan, with Valley Orthopedics, has achieved the highest level of training in spine and back surgery, completing fellowships in both Orthopedic and Neurosurgical Spine Surgery. During his fellowship at Stanford University Medical Center, he gained experience in complex spinal reconstruction, scoliosis, tumor and revision surgery for patients who have undergone previous spinal surgery without success. He went on to complete an additional fellowship in Orthopedic Spine at the prestigious Texas Back Institute where he had an opportunity to focus on minimally invasive techniques and artificial disc replacement.
For more information on Dr. Thongtrangan, visit http://www.valleyorthoaz.com.
###