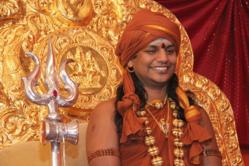 Los Angeles, CA (PRWEB) February 25, 2013
The High Court of Karnataka today quashed the action initiated by the District Commissioner, Ramanagara against Sri Nithyananda Swami in the case filed on 14 June 2012 in Cr. No. 308/2012 u/s 107 and 151 CrPC.
The High Court of Karnataka clearly said that the District Commissioner had acted illegally and without authority in remanding Sri Nithyananda Swami to custody as well as in obtaining a bond from Sri Nithyananda Swami.
The High Court of Karnataka also quashed the complaint filed by Karnataka Nava Nirman Sene (Bhima Shankar Patil and Shivaraja) in Cr. No. 295/2012 filed on 7 June 2012. The High Court clearly said that no offence is made out in the case and hence the case is quashed.
The complaint was filed by Karnataka Nava Nirman Sene against Sri Nithyananda Swami in June 2012 claiming he had instigated his devotees to allegedly attack them, when in fact he was not even on the scene and Sri Nithyananda Swami's disciples, sannyasis and sannyasisnis were actually attacked and physically assaulted by rowdy elements of the Karnataka Nava Nirman Sene led by Bhima Shankar Patil.
About His Holiness Paramahamsa Nithyananda:
His Holiness Paramahamsa Nithyananda, who is the spiritual guide for the Nithyananda Yoga & Meditation University is a global leader in the science of enlightenment. Nithyananda is revered as a living saint and a Avatar (divine incarnation) by millions worldwide.
He is the most-watched spiritual teacher on YouTube.com with more than 16 million views, and the author of more than 300 books published in 27 global languages. Nithyananda has been named among the world's top 100 most spiritually influential personalities of 2012. An accomplished yogi and gifted spiritual healer, Paramahamsa Nithyananda has healed diseases ranging from migraine to cancer, often with a single initiation.
For close to a decade now, Paramahamsa Nithyananda has been working with scientists and researchers to demystify the yogic sciences of the Universe, including kundalini awakening, DNA activation, brain-cell regeneration, levitation, materialization and yogic age-reversal.