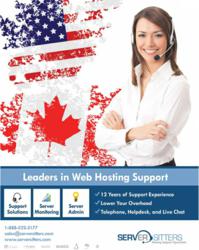 With a guaranteed response time of 1 hour, customers are cared for 24×7 by highly skilled engineers
San Diego, CA (PRWEB) February 25, 2013
This year, companies are looking to give a big boost to their business. Server Sitters starts with the best professionals on staff, and is willing & able to jump start digital growth in 2013. Server Sitters, the most trusted name in outsourced technical support now offering special bundled plans for help desk, live chat and 24 hour phone support.
 
Use the coupon code: 'HOSTINGCON' on bundled packages including the popular Server Sitters help-desk, live chat and phone support plans.
 
For less than $1.00 a minute, clients receive top notch support from the Server Sitters offices in United States (24×7) and Canada. Their elite team of professionals gives customers 5 star support using fully customized response routines. To keep customers feeling confident, they are able to choose which office should attend to various calls, and receive a dedicated number for their company.
 
The live chat plans are very low priced as well. The Server Sitters support team is trained in all issues faced in the web hosting industry and relies on the combined knowledge of engineers in both facilities . Server Sitters will use your customized policies and procedure documents to answer all pre-sales queries coming in 24×7. Certified quality control processes ensure that customers get the very best support solutions available in the industry today.
 
The help desk plans from Server Sitters gives the customer the peace of mind that their valued clients are well taken care of. With a guaranteed response time of 1 hour, customers are cared for 24×7 by highly skilled engineers. With ISO certified quality management systems, and information security management systems, you can be assured that your clients and servers are in the best hands.
 
Why Server Sitters ?
 
Server Sitters has been offering technical support and software development solutions since 2001. The technical support division of Server Sitters currently manages hundreds of servers and thousands of different websites, making it the one of the largest outsourced web hosting support companies in the United States and Canada. Server Sitters also offers design, development and testing services, enabling its clients to make the best of Server Sitters expertize in every stage of website/application development.
To find out more on their latest technical support plan offerings by Server Sitters, please visit their official website at: http://www.serversitters.com
About Server Sitters
Server Sitters is an outsourced support provider specializing in hosting support for web hosting companies that require help-desk support, live chat support and/or telephone support services. For more information, call Toll Free: 888-522-3177