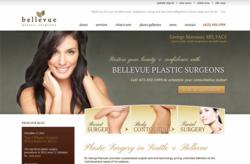 AVA's Platinum Award is presented to those entries judged to be among the most outstanding submissions in the competition.
Bellevue, WA (PRWEB) February 28, 2013
Local web design firm, efelle media, wins platinum AVA digital award in the Medical Website Design category for Bellevue Plastic Surgeons website. Bellevue Plastic Surgeons provides the latest and safest cosmetic procedures using the most technologically advanced equipment to give patients the best possible and longest lasting results.
Last month, the Bellevue Plastic Surgeons website was nominated for a digital design award. Based on the evaluation of the Association of Marketing and Communication Professionals' (ACMP) judges, efelle media is the platinum award recipient in the International AVA Digital Awards 2013 Competition in the Medical Website Design category. AVA Digital Awards is an international competition that recognizes outstanding work by creative interactive marketing professionals. There were approximately 2,000 entries from throughout the United States and several other countries in the 2013 competition.
AVA's Platinum Award is presented to those entries judged to be among the most outstanding submissions in the competition. Platinum winners are recognized for their excellence in terms of quality, creativity, and resourcefulness.
Dr. Marosan hired efelle media to redesign the website for his medical profession, to better reflect his practice, values, and expertise. Through the branding consultation process, efelle media created a more organic, natural logo to replace the sharpness of his original logo. The web design team at efelle media borrowed aesthetic elements from his office and surroundings as inspiration for the look and feel of his new website, utilizing the look of natural Cherry wood and foliage to craft his web site. The custom website design also incorporates categorized photo galleries, patient testimonials, and procedure information to engage site visitors.
With more than 400 successfully completed custom website design and development projects under its belt, efelle media continues to work with a variety of business entities in dozens of industries, from start-ups, non-profits, and local small businesses to large national and international corporations. In addition to its professional service website platform, efelle media also offers other custom online marketing solutions including web design and website content management for ecommerce businesses, law firms, property managers, chambers of commerce, and more.
To learn more about efelle media, visit http://www.efellemedia.com.
To check out Bellevue Plastic Surgeon's site, visit http://www.bellevueplasticsurgeons.com/.
About efelle media
Founded in 2005, efelle media specializes in custom website design and development with an emphasis in organic search engine optimization. Over the past 8 years, efelle media has grown into a full, in-house team of web design and developers, internet marketing professionals, and production and support staff and continues to produce complete online marketing systems for clients nationwide from its Seattle offices.