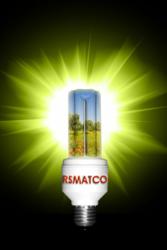 Charlotte, North Carolina (PRWEB) February 27, 2013
RS Matco, a supplier of boiler tubing in the United States and abroad, announces their expansion into new green energy development. RS Matco has increased their budget and double their efforts to search for new partners in the green energy trash recycling sector. The company's product specialist, Eric Church, is searching for partners close to their home base in North Carolina.
RS Matco's interest is one of altruism and industry diversification. Church offered this explanation for the new venture, "RS Matco is a family company started by my father Ron Church. Along with his knowledge of the boiler tubing industry, he believes it's his duty to pass along a good environment for his kids and grandchildren. It's a win, win for everyone. The company adds a new revenue stream and everyone benefits from a healthier planet."
One waste-to-energy venture that RS Matco executives are studying is the highly publicized clean energy project at Charlotte Douglas Airport. It has jokingly been named the 12 Million Worm Project because it uses North Carolina red wiggler worms or Eisenia foetida to help process the organic material.
A recent report by Julie Rose of National Public Radio explained the process. The airport generates 2.5 tons of trash each day that has traditionally been deposited into a landfill. Now that trash is tumbled from the main buildings down a conveyor belt to workers that sort all of the airport's waste into recyclables versus non-recyclables. Recyclables are crushed, baled and sold for cash. The organic, non-recyclable waste is moved down the line to a composting bin where millions of red worms chomp down on the trash and produce reusable fertilizer for the airport facility plants and grounds.
The process reduces the airports' landfill waste by 70% but Church believes they could get to 100% by using traditional steam plant boiler methods and wants to develop partnerships to make this happen. Burning the remaining trash to create steam generated energy is not a new process but has not been incorporated into a working green energy model like the airport system.
The Charlotte Airport project was expensive to begin, but it is expected that in five years the airport will produce enough fertilizer from the worm farm to begin turning a profit. Church believes that profit could be increased by reselling steam generated energy produced from trash.
The challenge is to find unique circumstances where these micro processes could be implemented in a profitable manner. There are special conditions at Charlotte-Douglas that have allowed the owners to implement this system. Charlotte-Douglas happens to own a vast amount of land in the area surrounding the airport. This space is now being used for the trash sorting and the worm farm. Most other airports are not in a position to implement such programs due to a lack of space.
RS Matco owners support the Charlotte Douglas International Airport green energy project and hope that in the near future that they can be a part of the process. Eric Church added, "Only time will tell if this will be the new solution to our energy problems but if a million of God's smallest creatures can help to make the earth a better place, then we're willing to help shovel the rest of the trash!"