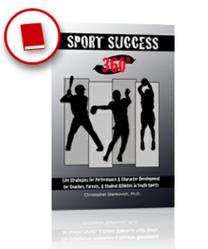 Unfortunately, there has been a terrible lag in professional training and development to keep up with the changes in youth sports.
Columbus, Ohio (PRWEB) February 28, 2013
More young athletes than ever before are burned out from high intensity sports, caught up using performance enhancing supplements, embarrassed by aggressive sports parents, or victims of hazing and sexual "boundary" issues between kids and adult coaches. Nationally acclaimed sport performance scientist and athletic counselor Dr. Chris Stankovich has dealt firsthand with these issues throughout his career, and has developed the premier sport education online training module designed to quickly help all athletes, coaches, and parents prevent and respond to these psychosocial issues – introducing Sport Success 360.
Benefits of Sport Success 360

24/7/365 online, easily accessible contemporary sport education training for student athletes, coaches, and parents
Helps student athletes maximize the athletic experience both on and off the field
Better trained coaches and parents = safer, more enjoyable sport experience for everyone
Trained coaches reduce liability risks and lawsuits for schools and youth sport leagues
Sport Success 360 – Real Training for the 21st Century
No other sport education module tackles the real problems in youth sports today, including youth sport burnout, sport retirement stress, performance enhancement supplements, hazing, and maintaining healthy and appropriate boundaries with kids. Rather than taking a reactive approach to the growing problems in youth sports, Sport Success 360 allows users to prepare for the issues that commonly occur and lead to emotional and physical pain, abuse, injuries, and legal consequences.
Sport Success 360 will change youth & interscholastic sports
Whether it's providing help to an athlete struggling with sport retirement, a coach unsure of how to run a successful pre-season meeting with parents, an administrator looking to help teach student athletes about leadership and role modeling, or a parent interested in the differences between travel and recreation sport leagues, Sport Success 360 delivers this information through succinct tips, insights, and video education. Real answers for today's sportsworld – that's Sport Success 360!
Dr. Chris Stankovich is the Founder of Advanced Human Performance Systems and the author of 5 books. In addition, he is a featured columnist for the National Federation of High Schools and has had his work featured in countless national outlets, including USA Today and ABC World News. For more information please visit http://www.sportsuccess360.com or http://www.youtube.com/watch?v=je_AwxdR59c. To set up media requests, email information(at)drstankovich(dot)com.