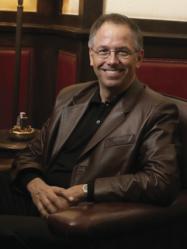 Dr. Bart's book is a compelling message to hospital leaders looking to breathe life into their organization's mission statement and make their hospital truly mission driven.
Hamilton, ON (PRWEB) February 26, 2013
"Mission statements are the most widely used management tool in the world and most of them are just plain lousy." says best selling author and university professor, Dr. Chris Bart in his new publication, The Mission Driven Hospital, which is set to launch in March 2013. He's not alone with this view. Eric Vandewall, President & CEO of Burlington's Joseph Brant Memorial Hospital states: "Many hospitals' mission statements become fixtures on the wall lacking relevance and meaning for staff, stakeholders, and the communities that we serve."
In The Mission Driven Hospital, Bart brings his unparalleled expertise in the area of mission statements to bear on health care providers, and hospitals in particular. The book is the result of Bart's latest research into the principles and practices of almost 500 hospitals across Canada and the United States, including the Mayo Clinic, St. Joseph's Hospital in Toronto, and others.
"I have been studying and writing about the use, misuse, and value of mission statements for over ten years," says Bart. "One major conclusion that my research has confirmed over and over again is that there is a tremendous performance advantage waiting to be obtained by those hospitals that sincerely choose to become what I call 'mission-driven'."
Bart has presented a unique and proprietary framework for developing mission statements, along with a set of clear, specific steps to execute them called the 5-C Mission Model.
"The 5C Mission Model," writes Bart, "shows that for a hospital to become mission driven, its leadership must give equal attention to the process by which its mission is Created; the specific Content of the mission; the way in which the mission is Communicated (and to whom); and how the mission is Coordinated and Controlled."
To harmonize these elements into a practical and easily understood paradigm, Bart has created "The Bart Star", a visual representation of the 5C Mission Model and what needs to happen for hospitals to integrate and implement their mission throughout the entire organization. "It's my unique framework," writes Bart, "discovered after years of research, for turning a hospital's mission into reality. It especially illustrates... the need to align all of a hospital's structures, systems, processes and activities to reflect, reinforce, and facilitate the successful implementation of the mission."
Using case study examples drawn from real-life hospital operations, written in a clear language, and featuring the latest in in-depth research data, The Mission Driven Hospital is a practical, thorough, and essential guide for hospital directors and their CEOs to apply to their own institutions.
The Mission Driven Hospital has already been wholeheartedly endorsed by the health care leadership community including the Ontario Hospital Association. Bob Houlden, Director of Educational Services and Governance Programs at the Association states: "Dr. Bart's book is a compelling message to hospital leaders looking to breathe life into their organization's mission statement and make their hospital truly mission driven. Bart provides a powerful analysis that effectively demonstrates the crucial elements needed to align the mission with a hospital's performance."
Derek Nice, Past Chair of Campbellford Memorial Hospital is even more enthusiastic: "This is a practical and inspiring book. Bart has written a practical step-by-step guide that should be mandatory reading for every CEO and Board Chair in the health sector today."
Dr. Bart is currently a Professor of Strategy and Governance at the DeGroote School of Business, McMaster University as well as the Founder, Principal and Lead Professor of The Directors College – offering Canada's first and only university accredited director certification program. His previous bestselling book "A Tale of Two Employees" has been on the Canadian Business Bestseller List for the past ten years. He lives in Hamilton with his wife Judy.
For review copies or interview requests with Dr. Bart, please contact Raven Cook at raven(at)fpm3(dot)com.