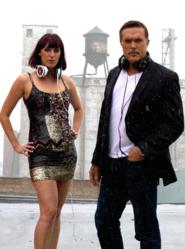 We pride ourselves on having 100% original content... We are music artists that produce and write all of our own music. We don't use pre-existing loops or beats, we create all our own stuff
Chicago, IL (PRWEB) February 26, 2013
It is no coincidence that the Winter Music Conference (WMC) in Miami coincides with the start of the Spring season, releasing many from the grip of winters cold harsh reality. It's the perfect time to turn up the volume, put on the bikinis, and forget about the foot of snow they just left behind.
Starting March 15th and culminating March 24th, WMC 2013 promises to be another banner year for the conference and the 28th International Dance Music Awards (IDMA).
While fans attend Ultra Music Festival that same week in Miami, professionals head to WMC, a legit conference that brings together a slew of EDM labels, artists, managers and more to network, make progress, and, of course, party!
Tech house act (We Are) Nexus plan to be front and center at this years Winter Music Conference, handing out swag on the streets from their sponsor Scosche, a consumer tech and audio company based in California. "WMC is a great opportunity for us to engage with our new fans and support our sponsor Scosche" says Nick Gunn, Nexus' producer/composer/engineer. "We will be hitting the streets to let fans listen to our music and give away free ear buds, hats, stickers and other cool swag."
Gunn, a veteran of the music business with over two million sales as a world music artist, has attended WMC before, and certainly has a proven track record of knowing how to reach his fans. "You have to extend yourself and put yourself in the mix" says Gunn. "Having the right tracks is one thing, but you have to create a buzz. If you're not excited about your own music, it really shows."
There's another half to the dynamic duo that is Nexus: vocalist/lyricist Carmen Rainier. "We pride ourselves on having 100% original content. We are not DJs, we are music artists that produce and write all of our own music. We don't use pre-existing loops or beats, we create all our own stuff" says Rainier.
Want to meet (We Are) Nexus at WMC? Connect with them at info(at)wearenexusedm(dot)com or through their website wearenexusedm.com.