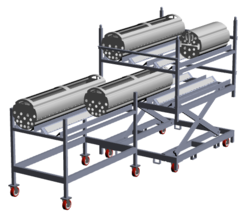 …it is imperative that all components be held to the highest standards of clean-ability and cleanliness…
White Pigeon, MI (PRWEB) February 27, 2013
High Pressure Processing is a new technology that surrounds your favorite foods with plain water in the high pressure processing machine. The machine then pressurizes the water to incredible pressures… up to 87,000psi! The results are a safer, healthier, clean label product that has a shelf life 2x – 3x its natural shelf – life, which, for some products, can extend shelf life from 30 days to 90 days.
"The process involves submerging products and their packaging completely in cold-water," says Vice President of Business Development, Jon Jurhs. Once the machine is loaded and the food is submerged in water pressurization of the chamber begins. "In a wet, food manufacturing environment, it is imperative that all components of the process be held to the highest standards of clean-ability and cleanliness," says Jurhs.
"Founded in 1944, the National Sanitation Foundation is a non-profit, non-governmental organization dedicated to developing standards, product certifications and risk-management practices for public health and safety. NSF focuses primarily on food, water, indoor air quality and the environment while developing its standards.
Though food service equipment does not have to bear the NFS mark, those models that do are easier to clean and ensure a safer commercial kitchen." [Source: National Sanitation Foundation
All Natural Freshness is pleased to announce applications for NSF/ANSI Standard 3-A 14159-1 -2010 certifications have been accepted for their industry leading High Pressure Processing Material Handling Carts. All Natural Freshness' Material Handling cart are compatible with the Avure 350L, Avure 215L, Chic 200L, Chic 300L, Chic 400L, Chic 500L High Pressure Pasteurization machines. "We have a commitment to continuous improvement and innovation, that is focused intently on giving our customers the safest HPP solutions possible," states President, Gerald Ludwick.