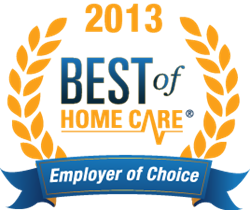 We are so pleased to be recognized as a quality leader in home care.
Nashua, New Hampshire (PRWEB) February 26, 2013
Home Care Assistance, the leading provider of in-home care for seniors, is honored to receive Home Care Pulse's "Best of Home Care" distinction. Every year, Home Care Pulse recognizes the home care companies with the highest level of client satisfaction as evaluated by anonymous surveys. For the second year in a row, Home Care Assistance of New Hampshire ranked in the top 1% of agencies across the country.
"We know that sometimes it is difficult to make care decisions when you don't have specific experience with an agency," commented Aaron Marcum, founder of Home Care Pulse. "It was our goal to provide families with the ability to make an informed decision, have tangible ways to measure quality and help them find a comfort level when choosing an agency to work with."
Home Care Pulse, a national company which measures client and employee satisfaction, created the award to identify those agencies in the in-home care space that demonstrate a passion for client and employee satisfaction. Home Care Pulse believes that honoring such companies can both educate and help families to make better care decisions for their aging loved ones. The selection process for the "Best of Home Care" award includes the evaluation of client and employee satisfaction in areas such as agency training, communication, overall quality of care, caregiver performance, caregiver morale, response to problems and recommendation of services.
"We are so pleased to be recognized as a quality leader in home care," said Lauren Robison, owner of Home Care Assistance. "It is vital to promote quality within one's organization so that clients feel comfortable and safe in their own homes. Our goal is to provide each client with the ultimate home care experience. In fact we have transfers from many other local agencies where clients are looking for something more; we are thrilled that we can provide this service for them."
Home Care Assistance helps seniors live well at home by providing compassionate caregivers who are highly qualified, bonded and insured. Nine out of ten seniors would prefer to remain in their homes and age independently, but they do not always know they have this choice. With its proprietary Balanced Care Method™, Home Care Assistance emphasizes scientifically proven lifestyle behaviors for healthy longevity including a nutrient-rich diet, mental and physical stimulation, social connection and a sense of purpose and calm.
For more information about Home Care Assistance and how the company is changing the way the world ages, please visit http://www.NewHampshireHomeCareAssistance.com or call 603-821-1820.
Home Care Assistance is located at 264 South River Road in Bedford, New Hampshire; 99 Pine Hill Road in Nashua, New Hampshire and 25 Roxbury Street in Keene, New Hampshire.
ABOUT HOME CARE ASSISTANCE
Home Care Assistance is the leading provider of home care for seniors across the United States and Canada. Our mission is to change the way the world ages. We provide older adults with quality care that enables them to live happier, healthier lives at home. Our services are distinguished by the caliber of our caregivers, the responsiveness of our staff and our expertise in Live-In care. We embrace a positive, balanced approach to aging centered on the evolving needs of older adults. A 2012 Franchise500® and Inc. 5000 Company, Home Care Assistance has received numerous industry awards including Entrepreneur's Fastest-Growing Franchises and Franchise Business Review's Top 50. For more information about Home Care Assistance, our services and franchise opportunities, visit homecareassistance.com or franchise.homecareassistance.com.