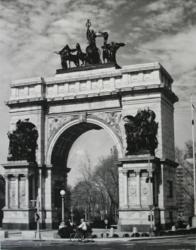 I love the wonderfully positive reaction to my new artform
New York City, NY (PRWEB) February 26, 2013
Photographer Ellen Fisch's exhibition of architectural art photography currently at Jadite Galleries in the heart of midtown NYC is being extended by popular demand. The reaction to the photography has been overwhelmingly positive. According to one journalist, Fisch has created a "Dream World" through her enhanced imagery of Brooklyn's Park Slope/ Prospect Park. Others viewing the images have referred to the photographs as "hauntingly beautiful" and "reminiscent of Atget." "The inclusion of drawing and 24K gold has created some unique and wonderful effects in the photographs," says Fisch.
Brooklyn's well known Park Slope and Prospect Park are currently top NYC real estate areas rivaling locations bordering Manhattan's Central Park. One reason that Brooklyn draws residents may be the elegant town houses dating from the Gilded Age that still remain a symbol of gracious living. "The grandeur of the architecture lining the streets of Park Slope and the natural beauty that Prospect Park lends to the neighborhood creates a wonderland for the artist's imagination," remarks Photographer Ellen Fisch.
These houses and leafy park paths greatly influenced the architectural art photography of Ellen Fisch. "As a child, I visited the Brooklyn Botanic Gardens, Prospect Park and other attractions of the community after having lunch at my grandparents' home in Park Slope." The childhood impressions carried throughout most of Fisch's life as she returned again and again to photograph the fine old homes ornamented with metal, wood and glass architectural detail. She also continues to find inspiration and enjoyment from outings to the parks and gardens that liberally dot the historic NYC neighborhood.
With her latest exhibit, Photographer Ellen Fisch has broken new ground in photographic art by enhancing her photographs of Park Slope and Prospect Park with pencil, charcoal, pastel and gold leaf. "The use of subtle additions of traditional fine art media in my photography has heightened the images." The exhibit has been hugely successful and garnered accolades from visitors and a good amount of laudatory press. "I am deeply gratified that so many people appreciate my enhanced photography," says Ellen Fisch. "I am so pleased that Jadite Galleries has extended my 'Park Slope/Prospect Park' exhibition. I create art as a means of self-expression and love this wonderfully positive reaction to my new artform."
About: Ellen Fisch is a New York based architectural art photographer specializing in black and white and sepia photography that is artistically expressive, historically relevant and timeless. Fisch has recently begun to explore using traditional fine art media to enhance her photography.
To view Ellen Fisch's new, enhanced black and white and sepia photography visit: http://www.ellenfisch.com/psppenhanced.html
To learn more about Ellen Fisch and her continuing exploration of photography and art visit: http://www.ellenfisch.blogspot.com
###