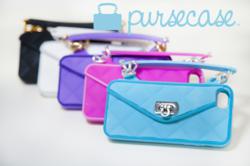 (PRWEB) February 25, 2013
pursecase, the brand-new petite clutch designed with a girl's iPhone and essentials in mind launched on Kickstarter today, February 25th, at 5 p.m. EST.
As fashionistas and busy PR girls, pursecase co-creators Jenn Deese and Kelley Coughlan rely equally on functionality and style. So when it came to their protecting their iPhone — something so central to their careers and lifestyles — compromise was the last thing they were looking to do. What are two 21st century girls to do when they want the protection of a phone case, the practicality of a purse, and a chicness that exceeds both? They invent it, of course. And with that, pursecase was born.
With patent pending on a unique design that includes the ability to hold any girl's essentials — cards, cash, phone, and a built in compact mirror — pursecase is not only chic, but sensible as well. Gone are the days of digging for a lost phone inside a black-hole handbag and missing that oh-so-important call!
pursecase embodies the height of fashion and utility, but never at the price of individuality, with the choice of teal, pink, black, white, and purple for either iPhone 4/4S or iPhone 5. If enough money is raised, the pursecase team will be unveiling designs for the Samsung Galaxy and other smartphone models as well.
Launching on Kickstarter today, February 25th at 5 p.m. EST, and running through March 29th at 8 p.m. EST, pursecase will be available for $28 to the first 250 backers and then $35 for the duration of the campaign (retail price after Kickstarter will be $38). And for the fella's there are a variety of other options to reward their contribution.
To help make pursecase's dreams a reality, find it on Kickstarter at http://kck.st/Wf4fcg.
You can also find the link on pursecase's website at http://www.pursecase.com. Pursecase is also on Facebook, Twitter, and Instagram @pursecase #stylinanddialin
About Kickstarter:
Kickstarter is an online funding platform for creative projects. Everything from films, games, and music to art, design, and technology. Kickstarter is full of ambitious, innovative, and imaginative projects that are brought to life through the direct support of others.
Every kickstarter project creator sets their project's funding goal and deadline. If people like the project, they can pledge money to make it happen. If the project succeeds in reaching its funding goal, all backers' credit cards are charged when time expires. If the project falls short, no one is charged. Funding on Kickstarter is all-or-nothing.
Since its launch in April 2009, over $450 million has been pledged by more than 3 million people, funding more than 35,000 creative projects.
For media requests, or to speak with Jenn Deese or Kelley Coughlan, please contact: April Eaton, Melrose PR, april(at)melrosepr(dot)com, (310) 450-7960