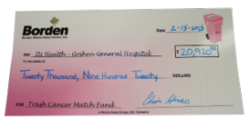 "We take pride in our responsible recycling process. We're proud to report that more than 90 percent of the material we receive by single stream is recovered and shipped to the world market for reuse", says Chris Himes, the President of Borden Waste-Away
(PRWEB) February 27, 2013
Borden Waste-Away eagerly announces the expansion of their Single Stream recycling services into the city limits of Goshen. The introduction of recycling to Goshen city residents began the middle of January and has been incredibly well received. Within the first ten days of the campaign, over 150 new recycling customers are now enjoying the Single Stream style of recycling.
Single Stream recycling, first made available to residential customers in 2009, is a simple, convenient, and environmentally friendly service that ensures your hard work of recycling is not wasted. In this process, all clean recyclables can be put into the same container loose, unsorted and unbagged. This service includes a 96-gallon wheeled cart delivered free of charge. Borden Waste-Away collects your recyclables by a truck completely separate from your trash and transports it to their state-of-the-art recycling facility in Elkhart, Indiana. Recyclables are then hand and mechanically sorted into separate clean commodity types. A separate cart is used by Borden to ensure that the highest percentage of the recyclables collected can be recovered.
"We take pride in our responsible recycling process. We're proud to report that more than 90 percent of the material we receive by single stream is recovered and shipped to the world market for reuse", says Chris Himes, the President of Borden Waste-Away Service, Inc.
Other styles of recycling allow a perceived convenience of putting bags of recyclables into the same container as trash later to be recovered at a transfer station and sent to a recycling facility. "Unfortunately, the recovery rate is usually less than 45 percent; the rest is contaminated by trash and ends up in the landfill. That seems like a lot of effort, time and energy for less than 45 percent", Himes reveals.
Residents of the city of Goshen had previously been transporting their recyclables to a local drop-off center. Simplicity, convenience, and the minimal expense are a few of the benefits cited by excited new recycling customers.
Along with a new environmentally-friendly service, Borden is making their Trash Cancer
program available to Goshen recycling customers. Pink Carts are offered to residents and
every cart placed represents a $5.00 Borden-Waste Away donation to the local chapter of
the American Cancer Society. The Trash Cancer Donation Matching Fund offers customers
the option to add a $1.00 per month donation to their bills. At the end of the year, the $12.00
donation is matched by Borden Waste-Away and a $24.00 donation is sent to the IU Health
Goshen Center for Cancer Care supporting clinical trials and research. As Borden enters
into the program's third year, the popularity of the Trash Cancer Donation Matching Fund is
expanding. In 2011, customers and Borden raised $19,502 and in 2012, the donation and
match grew to an astounding $20,920.
Borden Waste-Away invites you to take part in either or both of their awe inspiring programs to help "Trash Cancer" and "Kick Cancer to the Curb"!
Waste-Away Group, Ltd. manages waste collection, transportation, and disposal, both to a Materials Recovery Facility and landfill facilities for residential, commercial, and industrial customers. Having served Northern Indiana and Southern Michigan for over 70 years, Waste-Away Group, Ltd. is headquartered in Elkhart, Indiana. Its affiliate companies are Borden Waste-Away Service, Inc., providing residential waste and recycling removal, Himco Waste-Away Service, Inc., serving our commercial and industrial customers for their waste and recycling removal, Integra Certified Document Destruction LLC, providing safe, secure destruction of sensitive material and hard drives, and Recycling Works, Inc., the Materials Recovery Facility that sorts and ships recycling commodities to the world market for reuse. Together, these companies making up Waste-Away Group, provide innovative, environmentally sound solutions while maintaining a leading market share in its core business areas.